Cybersecurity Center
Students who complete the degree or certificates listed below will soon be eligible to receive a certificate confirming their completion of the CAE-designated program.
B.S. – Management Information Systems
Certificate in Information Assurance
Certificate in Cyber Security Management
The creation of the MSU Cybersecurity Center will further explore and support cybersecurity topics in education. The center will be a source for news, information, community outreach, training, and dissemination cybersecurity best practices. The mission of the center is to provide:  
Program guidance and oversight — It's critical that our programs continue to meet the highest national academic standards to prepare graduates for the local cybersecurity workforce. We also assist other institutions in developing their programs.
General cyber defense information — We provide resources so people can understand what attacks are happening and what they can do to protect themselves.
Collaboration and outreach opportunities among students, faculty, area communities, and other institutions — MSU clubs include: Students with Interest in Future Technologies (SWIFT), Computer Science Club, Cyber Squad (cyber competition participants and organizers), Cyber Patriots program, Cyber Awareness Conferences, guest speakers, and other community events. 
Nodakon Cyber Summit v2.1
October 25th, 2021 Cyber Self Defense Clinic - SWIFT Club
11am – 2pm Central Time
1stFloor Old Main  {Cyber Awareness, Retro Pi gaming, Sticker sales, and Club Information}
 October 26th, 2021  "Why Raspberry PI?" - Dr. Rhona Chicone
 October 26th, 2021 " A Life of Cyber" - Eirik Felter
 October 27th, 2021 "Bug Bounty Hunter" - Jesse Clark
 October 27th, 2021 "ND Cyber State" - Anthony Aukland
 October 28th, 2021 Cyber Self Defense Clinic - SWIFT Club
11am – 2pm Central Time
Beaver Dam Hallway – Student Union - {Cyber Awareness, Retro Pi gaming, Sticker sales, and Club Information}
News
SecurityWeek: www.securityweek.com
Cyber Competitions
Cybersecurity Resources
Events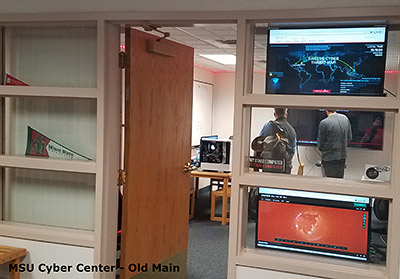 Advisory Board
Cyber Center Faculty:
Dr. Lori Willoughby, Chair BIT
Ph: 701-858-3314
Email: Lori.Willoughby@MinotStateU.edu
Linda Cresap, PhD, Master of Science in Sports Management
Ph: 701-858-3316
Email:  Linda.Cresap@MinotStateU.edu
Mr. Chad Fenner, Assistant Professor
Ph: 701-858-3293
Email:  Chad.Fenner@MinotStateU.edu 
Jan Repnow, MS, Assistant Professor
Ph: 701-858-3325
Email:  jan.l.repnow@minotstateu.edu 
Kristi Berg, PhD Professor
Ph: 701-858-4337
Email:  Kristi.Berg@MinotStateU.edu 
Serena Pontenila, PhD, Assistant Professor
Ph: 701-858-3307
Email:  serena.pontenila@minotstateu.edu 
Kyle Bittle, MSIS, Instructor
Ph: 701-858-3217
Email:  kyle.bittle@minotstateu.edu