Duong advances to quarterfinals of Cyber FastTrack test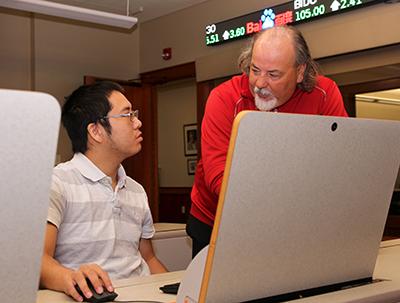 MINOT, N.D. – Minot State University senior Kevin Duong was one of just 10 students from a North Dakota university who earned a spot in the quarterfinals of the Cyber FastTrack, a national cyber aptitude test.
Duong was one of 69 students in the North Dakota University System (NDUS) who started the event and moved past the "puzzle fun" portion to solve challenges that required the application of cybersecurity specific techniques and concepts.
"I like puzzles and cybersecurity is really a big puzzle," Duong, who is studying management information systems at Minot State, said. "But each of the labs, the first part, there were 12 labs, that took about five to 10 minutes each, got harder and harder as you went further in. The second stage, I think there were six chapters, and the first four had at least 20 parts. The last few you had to download extra programs to help you de-code."
Cyber FastTrack is a free online program designed by world-leaders in cybersecurity and backed by governors across the country including North Dakota's Gov. Doug Burgum, who encouraged individuals to take the test, especially girls in K-12 and women at the collegiate level.
"This was the first year that we knew about the program, it was sent to us from an initiative from the governor's office, trying to get more individuals involved in cybersecurity," said Chad Fenner, Minot State business information technology professor. "We had seven start the test with one female student and had three or four work their way through it. Kevin did well enough to come back for the second round."
The test was given late in the semester, with the second round beginning after the spring semester was over, extending into June. While that wasn't optimal for feedback from the students, he believes in getting students out of their comfort zone to learn.
"It was exciting to know we had someone in the second round," he said. "The bad part is it was in June, so I wasn't able to visit with him much and caught up with him after the summer. But I'm always pushing our students to go out and get experience, not just sitting in the classroom. I want them to be introduced to the real world."
Duong believes he got a taste of the real world working through the second round of the test.
"I felt like it was furthering my education in cybersecurity," he said. "This was a way to hone my skills. I hope to get into some kind of cybersecurity in the future after graduation."
Along with Duong, Minot State students Jonathon Angert, Jordan Douglas, Marquise Johnson, Jayden Staskywicz, Stephen Szwiec, and Swapnil Talekar also participated the first round of the test in May.
While Duong is currently in the management information system program, Minot State does offer a cybersecurity certificate in undergrad and grad levels and is currently in the process of developing a four-year Bachelor of Science degree.
"We had good overall numbers take the test in North Dakota and at Minot State," Fenner said. "I think we will be looking at having students take this again this year, but it takes the initiative to do it. We had seven out of 30-40-50 students who I mentioned it to. But the ones that did enjoyed the process. I'm hoping with the work we are doing with the computer science department, we can get more people interested and get someone to the third round."
About Minot State University
Minot State University is a public university dedicated to excellence in education, scholarship, and community engagement achieved through rigorous academic experiences, active learning environments, commitment to public service, and a vibrant campus life.
---