Development Foundation
The MSU Development Foundation was incorporated in 1978 exclusively for the benefit of Minot State University. Its purpose is to establish, promote and stimulate voluntary financial support for the benefit of Minot State University, especially in the building of endowment and in addressing the long-term priorities of the university.
Board Members

Kathy Aas '11
 

Jon Backes '84
 

Jan Barlow '61
 

Kathy Gaddie
 

David Gowan '79
 

Maynard Sandberg '55
 

Karen Krebsbach '62
 

Tom Probst '67
 

Kent Kirkhammer '06 
 

Bob Sando
 

Doris Slaaten '49,
Emeritus
 

Myron Thompson '67
 

Jarid Lundeen '97,
Ex-Officio
 

Chelsea Kirkhammer '06,
Ex-Officio
 

Brent Winiger,
Ex-Officio
 

Steven Shirley,
Ex-Officio
 

Rick Hedberg '89,
Ex-Officio
 
 
 
 
Foundation Executive Committee
Maynard Sandberg
President
Tom Probst
Vice President
Brent Winiger
Treasurer
Rick Hedberg
Executive Director
Dr. Steven Shirley
University President
Tom Probst
Investment Advisory Committee
Karen Krebsbach
Development Strategies Committee
Bob Sando
Special Gifts Committee
Kathy Aas
Nominating Committee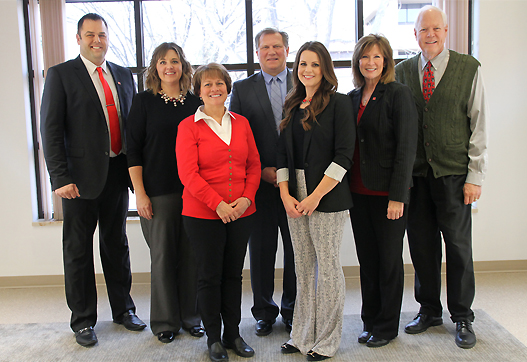 Foundation Office Staff
Rick Hedberg
VP for Advancement/Executive
Director MSU Development Foundation
Jeremy Feller
Development Officer
Dan Langemo
Development Officer
Kate Marshall
Donor Relations Coordinator
Janna McKechnie
Director of Alumni Relations and Annual Giving
Renae Yale
Database Manager
Bonnie Trueblood
Administrative Assistant

Find us on Facebook!