Alumni Association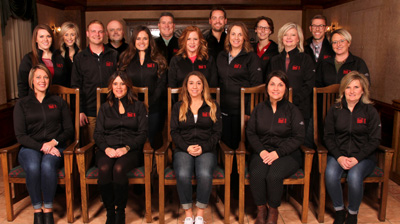 Alumni Association Board of Directors
Seated L to R: Niki Carlson '05, Pam Andrist, Chelsea Kirkhammer '06, Brandi Fjeld '10, Laura Morelli '93 Standing Middle Row L to R: Breanna Benson '16, Ben Berg '13, Danielle Rued '13, Janelle Verhey '87, Kristi Berg '95/'00 Julie Drady '89 and  Sabrina Herrmann '93/'02 Standing Back Row L to R: McKenna Gudmunson '13, Kelsey Holt '97, Greg Fjeld '81, Mat Jensen '07, Jaimie Brunner '00 and Trent Westmeyer '93 Not Pictured: Kari Lysne '88, Audra Butler '06, 
» Board Members
» How to Join
» Scholarship

Find us on Facebook!
About Us
Since the establishment of Minot as a site for a Normal School in 1913 and the resulting spring graduating class of 1914, there has been an ongoing effort to sustain a relationship with the alumni (former students and anyone who has attended) of this institution.
Annual get-togethers in the fall during the State Teachers Convention constituted the early events. In 1929, the Alumni Association began participating in the annual homecoming festivities. Since April of 1931, formal records have been kept of the Alumni Association Board of Directors meetings and the various activities that have taken place over the last 95+ years. In the early years, dues of $1 per year were charged for active members of the Normal School and the Teachers College alumni volunteers.
As Minot State Teachers College continued to grow, so did the Alumni Association. In the late 60s and early 70s the Alumni Association and its Board of Directors became more active in the fundraising segment of the institution. Giving clubs and building projects were developed and, in the 80s, an organized group of volunteers sought to establish university status.
In 1990, the Alumni Association merged with the University, and the Alumni Office is currently apart of Advancement. This office coordinates alumni events and activities and the Alumni Association Board works closely with the Vice President for Advancement and the Director of Alumni Relations. The board plans alumni events locally and out of state annually with local alumni who are willing to serve as hosts. The major events that the Alumni Association Board focuses on are the MSU GALA and Homecoming.
Mission
To promote positive relationships that encourage alumni, students, community, and friends to be actively and emotionally identified with Minot State University.
Membership
Anyone who has completed a class at Minot State University is eligible for membership and is considered an alumnus/alumna. There are currently no membership dues. The only requirement is to have current information on the alumni database in order to receive alumni and university mailings.