SWIFT members excel in Hivestorm event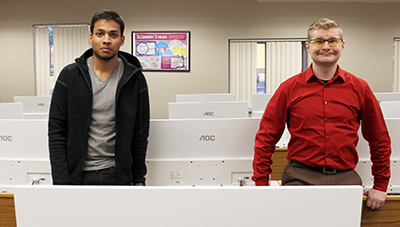 MINOT, N.D. – Minot State University's newly formed cyber security club SWIFT — Students with Interest in Future Technology — finished in the top half of a national competition called Hivestorm in early November.
Team members Swapnil Talekar, Stephen Szwiec, Gary Griswold, and Nishan Adhikari made up the Minot State group for the 2019 competition, the first time a team from Minot State has entered Hivestorm. Through some trial and error, the team finished with 127 points, well ahead of multiple entries.
"There were over 130 teams and most of them didn't get over 100 points," Szwiec said. "We really only prepared the right way for about 30% of the competition and were able to get 127. We had a strong plan for operation level hardening, but we lacked a bit on application hardening. We didn't quite know what they were running for the technical requirements. So, in addition to a system-level checklist, we would need to have application-level hardening."
MSU instructor in business information technology Chad Fenner believes the work the current team and SWIFT is doing now will have lasting ramifications for future students at Minot State.
"We want to get where we aren't just redoing what we have already done," Fenner said. "For the next competition, we hope to get a mix of upper class and some freshmen or sophomores and some other departments across campus, so we are building on this and getting it passed down, getting stronger and stronger each year. Overall, we want to retain those skills and pass those talents to the next group. We will then become recognized as a place that is well versed in cyber."
The creation of SWIFT this semester and the selection of the words that make up the acronym were the first step towards that.
"This competition initially started with SWIFT, the group came together and started this club to be able to work on events like this," Talekar said.
"Social clubs like this are big in larger cities," Fenner added. "It's a bunch of people who are interested in cyber security, they talk about hacking, they do hacking, they work on hacking, so it becomes a club. We thought, we should be doing that."
Fenner helped SWIFT look for competitions to enter, but once Hivestorm was picked, it became solely a project for the students. Szwiec, who was named the team's captain, was contacted by the contest, putting everything into motion.
Hivestorm, created by the University of Texas San Antonio, is a collegiate-focused cyber defense competition where teams secure provided Windows and Linux based virtual machines, removing malware and other infections, correcting misconfigurations, mitigating vulnerabilities, and disabling vulnerable services, among other processes. Teams accumulate points during a timed event.
"The initial discussion was about two months out," Szwiec said. "We built a virtual environment where we could test and then an intense training session where we spent about a week on that. I work three jobs on campus, but I had to tell my bosses, this week, Hivestorm."
"There is really no right way to complete Hivestorm," added Talekar. "There are some documents to follow. Stephen put together a great guideline for us. We went into the competition with a mindset that was very technical but should have been holistic."
The makeup of the team, with individuals from different disciplines, worked in the team's favor and fits the idea Fenner had when helping to form SWIFT. Szwiec is a bioinformatics major, while Talekar is in management information systems. Griswold and Adhikari are computer science majors.
"The more diverse the group, the better we are at solving problems," Fenner said. "If you get too technical, you lose some of the creativity."
Fenner also feels Hivestorm is a steppingstone to more active collegiate cyber security tournaments, such as the National Collegiate Cyber Defense Competition presented by Raytheon. The 2019 championship was held in Orlando in April with the University of Virginia earning the title.
"We didn't quite know everything we needed to know going into Hivestorm, but what I liked was it didn't stop our students from competing at a high level," he said. "The group that puts Hivestorm on also has a qualifier and a regional in March and if you do well, you can compete at the national level. I would be really happy if we could get through the qualifier and even move on to nationals. We have that level of work ethic here to do that."
About Minot State University
Minot State University is a public university dedicated to excellence in education, scholarship, and community engagement achieved through rigorous academic experiences, active learning environments, commitment to public service, and a vibrant campus life.
---