Minot State University presents "Surveillance: Your Privacy Matters or Not?" Campus and Community Dialogue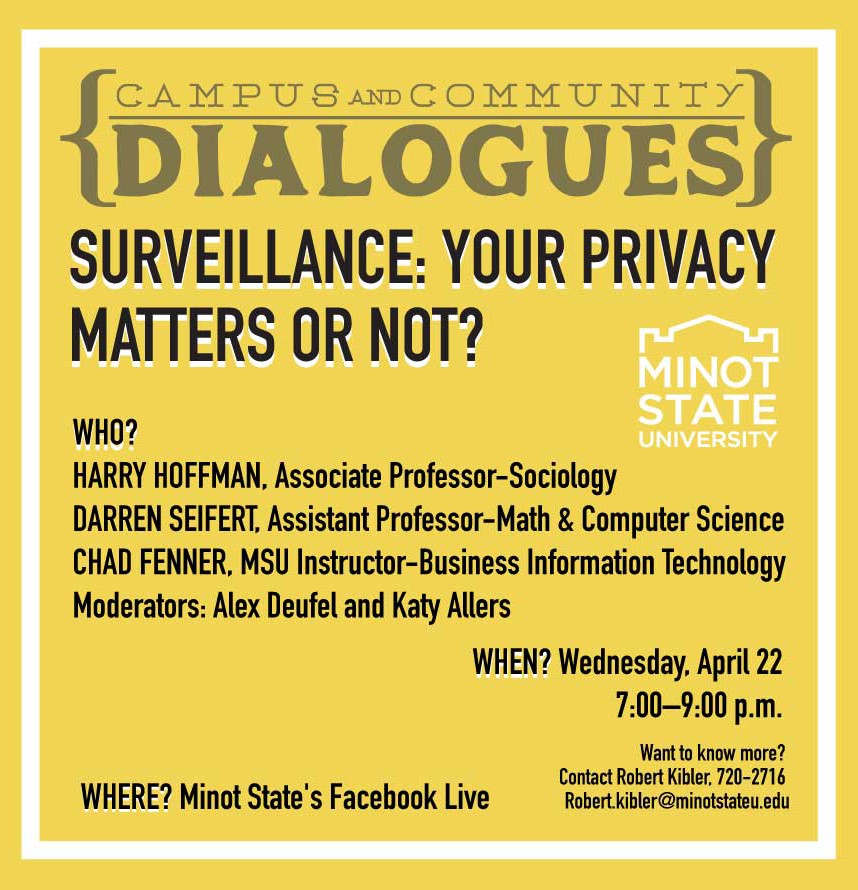 MINOT, N.D. – On Wednesday, April 22, Minot State University will host the Campus and Community Dialogues event "Surveillance: Your Privacy Matters or Not?" from 7-9 p.m. via Facebook Live @MinotStateUniversity and askMSU.com/dialogues.
The event will bring Harry Hoffman, associate professor of sociology; Darren Seifert, assistant professor of math and computer science; and Chad Fenner, instructor of business information technology, together to discuss how surveillance can be helpful and when it becomes a breach of privacy.
"An American citizen today is caught on camera on average 75 times per day. If we were Londoners, that number would be closer to 300. Of course, all of this surveillance means we are safer from crime, right? At the same time, we know that people change their behavior when they know they are being observed, so is all of this safety through surveillance worth it?" Robert Kibler, chair, foreign languages, humanities, and literature, said. "These and like issues point to why our discussion of surveillance is important and timely to all of us."
The popular series is usually held at the Northwest Arts Center, located in the lower level of the Gordon B. Olson Library, in addition to livestreaming the event for those unable to attend.
"Minot State University has run Campus and Community Dialogues on topical issues important to everyone for the past three years. Now, during COVID-19, it is most important that we hold to our responsibility," said Kibler. "Doing so helps us keep the ties that bind us together as a community." 
For more information about "Surveillance: Your Privacy Matters or Not?" or the Campus and Community Dialogues series, contact Kibler at 701-720-2716 or by EMAIL.
About Minot State University
Minot State University is a public university dedicated to excellence in education, scholarship, and community engagement achieved through rigorous academic experiences, active learning environments, commitment to public service, and a vibrant campus life.
---