Alumni and Donors
Golden Awards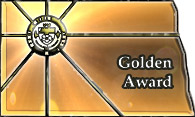 The highest honor bestowed by the Alumni Association is the Golden Award. Selection is based on outstanding service to the University or the Alumni Association and distinguished leadership in the recipient's career or community. The first award was presented to D. Archie Peterson in 1967. Since that time, more than 80 individuals have been recognized.
The 2016 event will honor Dave Gowan, Walter Piehl and Tom Probst and the Young Alumni achievement award will be presented to Matt and DelRae Geinert.
The criteria for the Young Alumni Achievement Award is the same as the Golden Award with one exception. The nominee must be between the ages of 21-39 to receive the Young Alumni Achievement Award.
Past Recipients:
2016 Recipients
2015 Recipients
2014 Recipients
2013 Recipients
2012 Recipients
2011 Recipients
2010 Recipients
2009 Recipients
2008 Recipients
2007 Recipients