Recipients 2007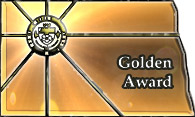 Three Minot State University alumni were the recipients of the Alumni Association's 2007 Golden Award Sept. 27. Those honored are Randy Burckhard, Rich Campbell, and Earl Johnson.
The highest award bestowed by the MSU Alumni Association, the Golden Award selections are based on outstanding service to the university or alumni association and distinguished leadership in the recipient's career or community.

Burckhard is the community relations manager at SRT Communications. He has served on the Alumni Board since 1995, been the corporate co-chair for the McFarland Campaign, helped organize the inauguration of President David Fuller in 2005 and has served on the Board of Regents since 2002. Burkhard has also been involved in the community through the Minot Area Development Corporation, the Minot City Council, the Minot Area Chamber of Commerce, and numerous other community entities.

Campbell, an executive vice president at First Western Bank and Trust, is serving as president of the MSU Development Foundation and is a member of the MSU Board of Regents and Beaver Boosters. He is past president of the MSU Alumni Association and past co-chair of the Gala auction. Campbell's community activities include being past president of the Independent Community Banks of N.D., past president of the Minot Area Development Corporation and past chairman of the Vincent United Methodist Church council. He currently serves on Minot Vocational Adjustment Workshop's board.

Johnson, a 1949 graduate of MSU, spent his professional life as a special education teacher. After retirement he has assisted in the restoring of Civilian Conservation Corps sites, competed in Senior Olympics and promoted participation in the Senior Olympics. His life story includes experiences as a firefighter with the CCC, service with the 501st Regiment of the 101st Airborne Division of the U.S. Army and receiving three purple hearts, a search for his birth mother, as well as memories of living at Kenmare, N.D.
The MSU Alumni Association began presenting its award in 1967. The first recipient was D. Archie Peterson. The last recipients were Brent Askvig, John Kincheloe, Thomas Myhra and Curtis Zimbelman. Since its inception, 102 individuals have been honored with the Golden Award.