Recipients 2008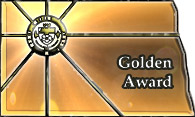 Four Minot State University alumni will be the recipients of the MSU Alumni Association's Golden Award this evening (Sept. 25) in the MSU Conference Center, 6 p.m. Those who will be honored include Jill Fuller, Ph.D., chief nursing officer at Prairie Lakes Healthcare System in Watertown, S.D.; Charles Repnow, owner of Strand Studio in Rugby; Jan Repnow, MSU business education instructor; and Gary Stenehjem, retired Minot music teacher.
The highest award bestowed by the MSU Alumni Association, the Golden Award selections are based on outstanding service to the university or alumni association and distinguished leadership in the recipient's career or community.
Fuller, R.N., Ph.D., is the chief nursing officer at Prairie Lakes Healthcare System in Watertown, S.D., and on the adjunct faculty for South Dakota State University, where she is teaching graduate nursing courses on executive leadership and healthcare operations. Fuller received her bachelor's degree from St. Olaf College in 1976, a Bachelor of Science in Nursing from Minot State in 1979, a master's degree in nursing from Brigham Young University in 1982 and a doctoral degree from the University of Utah in 1991.
A published author, she has been featured in a number of nursing documents, and she has given presentations regarding healthcare throughout the United States. In 2002, Fuller was named one of 20 nursing leaders for a nurse executive fellowship sponsored by the Robert Wood Johnson Foundation. She was the recipient of the Organizational Innovation Award from the American Organization of Nurse Executives in 2004.
Charles Repnow, an Underwood native, attended Hallmark Institute of Photography in Turners Falls, Mass., after graduating from MSU. Since 1987, he has owned Strand Studio, a photography studio, in Rugby. Repnow has served on the Rugby First Lutheran Church council and parish board and in the Rugby Lions Club at the local and district levels and is currently its immediate past president. During his term as president, he initiated "Tables Envisioned," which has become an annual fundraiser for sight projects as well as for other club needs. He serves on a number of boards including the Minot State University Board of Regents, the Heart of America Concert Series, the North Dakota Professional Photographers, the Western North Dakota Synod of Evangelical Lutheran Church in America, and the Hallmark Institute of Photography Alumni Association. Recently, he also started writing a weekly column in the Pierce County Tribune, "Let's Cook!"
Since 2002, Charles and his wife, Jan, have transformed nearly 1,400 pounds of the former McFarland Auditorium burgundy stage curtains and gold moiré draperies into items that are featured at the annual Minot State University Gala auction. To date, over $18,000 has been raised from this venture. Just recently, they have gathered unique pieces from Swain Hall to refashion and feature at upcoming Galas.
Jan (Thompson) Repnow, who was raised in Ray, graduated from Minot State with a double major in business education and vocational office education. At Minot State, she was active in Phi Beta Lambda. She received her master's degree in business education from the University of North Dakota in 2001.
Jan taught business courses at Wolford High School for 23 years. In 1994, she was one of four finalists for North Dakota Teacher of the Year, and in 2005, she was named North Dakota Wal-Mart Teacher of the Year. Currently, she teaches business teacher education courses in the MSU's Department of Business and Information Technology.
Jan is a member of the North Dakota Business and Office Technology Standards Writing Committee which has just completed writing the K-14 standards for state schools. She is a member of the National Business Education Association, the North Dakota Business and Office Education Association, the Association for Career and Technical Education, and the Rugby Lions Club. She has also served on the Rugby First Lutheran Church council, and she is a member and past president of the Lambda Chapter of Delta Kappa Gamma. Jan and her husband, Charles, have a daughter, Lydia.
Stenehjem, a Williston native, graduated from MSU in 1964 with a BSE in music and then attended the University of Northern Colorado-Greely in the summers from 1972 to 1975. He began his teaching career in Ryder and Westhope. He then moved to Minot, where he would spend the majority of his teaching career at Jim Hill Middle School and Minot High School, Central Campus. He retired in 1996 after teaching for over 31 years. He has also participated for many years at the International Music Camp-first as a student and then as a dean and a choir and band performer.
Having been involved in numerous musical groups, ensembles and several dance bands, Stenehjem has also been a piano tuner, a brass and organ lessons teacher, and a church organist, first at Bethany Lutheran, and then at First Lutheran, both of Minot. Stenehjem is a member of a number of organizations, including: the American Guild of Organists, North Dakota Education Association, Minot Elks, Minot Eagles, Sons of American Legion, Phi Mu Alpha music fraternity, Phi Sigma Pi professional fraternity, and Tau Kappa Epsilon social fraternity. He continues to perform in the Minot City Band, North Dakota State Legion Band, Minot Elks Band, Brass Band of Minot, Minot Symphony Orchestra, and as organist at First Lutheran Church.
The MSU Alumni Association began presenting its award in 1967. The first recipient was D. Archie Peterson. The last recipients were Randy Burckhard, Rich Campbell and Earl Johnson. Since its inception, about 108 individuals have been honored with the Golden Award.