Recipients 2009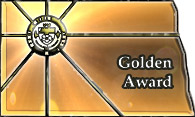 Four Minot State University alumni and one friend of the university will be the recipients of the MSU Alumni Association's Golden Award Thursday (Sept. 24) in the MSU Conference Center, 6 p.m. Recipients are Vonnie Brown, a dance ethnologist and a teacher of folk and ethnic dances; Blaine DesLauriers, west region president of First International Bank; Vencile "Vence" Elgie, Minot State University professor emeritus; John Hoeven III, governor of North Dakota; and Karen Krebsbach, North Dakota state senator.
The highest award bestowed by the MSU Alumni Association, the Golden Award selections are based on outstanding service to the university or alumni association and distinguished leadership in the recipient's career or community.
Brown credits her Norwegian-American family with her love and appreciation of cultural tradition. A native of Columbus, she received a bachelor's degree from Minot State Teachers College and a master's degree from Utah State University, Logan. She taught at Minot State University, Utah State University, Louisiana State University, Baton Rouge, and in secondary schools in California and North Dakota. She has also taught in Japan, Germany and the Czech and Slovak Republics.
Brown has been professionally active in the dance field. She has taught at major folk-dance camps and events across the nation and has served as the featured teacher at numerous state and national educational conferences. She published numerous articles in professional journals and established the publication "Folk Dance Scene - Baton Rouge." She has received national and international awards for her work in the preservation and dissemination of folk dance and culture.
Beginning in 1972, Brown was instrumental in bringing international folk dancing to Louisiana. That year she founded the Karpaty Folk Ensemble of Baton Rouge and served as its artistic director and choreographer until 2009.
Brown began traveling abroad to study and research traditional folk dances in 1976. Most of her study has been concentrated in Central and Eastern Europe, particularly the Slovak and Czech Republics. She was the first American to study and research dance in the former Czechoslovakia, and she is considered as North America's foremost authority in these dance forms.
DesLauriers, a Sherwood native, completed a bachelor's degree from Minot State in 1979. Since 1990, he has been employed with First International Bank and Trust in Minot. He currently is the west region president for eight banks located in western North Dakota, oversight of the trust department and a member of the bank's board of directors.
DesLauriers is a member and past chair of the MSU Board of Regents and is a member and past chair of the Beaver Boosters. He also co-chaired the capital fund drive for the MSU Dome Improvement Fund.
DesLauriers' community activities include being past chair of the Minot Recreation Commission and the Minot Family YMCA and the Minot MAGIC Fund boards of directors. He is vice chair for the Minot Vocational Adjustment Workshop and a board member for Trinity Health and the Minot Catholic Schools' Corporate Board. Previously, he served on the Minot Area Development Corporation board. He belongs to the Minot Rotary Club, Minot Y's Men Club, Our Lady of Grace Parish, the Knights of Columbus and the Minot Football Officials Association, where he has 30 years of service.
Elgie served Minot State University for 33 years before his retirement in 1985. He began his tenure at MSU in 1956 as an assistant football coach and freshmen basketball coach. In 1957, he was named head football coach, and his 1962 team was conference champion. In 1967, he became the athletic director and chair of the Department of Physical Education. He resigned as athletic director in 1975 but remained chair of the Division of Health, Physical Education and Recreation until his retirement. In 1988, he was inducted into the MSU Athletic Hall of Fame.
Elgie, a Kenmare native, enrolled at Minot State in the fall of 1942, but his schooling was interrupted by World War II. He entered the United States Army in 1943 and served honorably for 18 months in the European Theater. He returned to MSU in the fall of 1946. He participated in football and was a member of the 1946 and 1948 championship teams. In 1949, he graduated with a bachelor's degree in physical education, history and social studies.
Upon graduation, Elgie taught and coached at Stanley High and Minot Model schools. In 1953, his undefeated basketball team won the State Class B title and was named "Team of the Year" by the North Dakota Sportscasters and Sportswriters Association. In 1955, he received his master's degree in physical education from the University of Oregon, Eugene.
Elgie is involved in many professional and community organizations. He is a member of Zion Lutheran Church and the Beaver Boosters. He remains an avid supporter of sports and MSU.
Hoeven, who was born in Bismarck and raised in Minot, earned a bachelor's degree from Dartmouth College, Hanover, N.H., and a master's degree in business administration from Northwestern University, Evanston, Ill. Prior to becoming North Dakota's 31st governor in December 2000, he served as president and chief executive officer of the Bank of North Dakota. After assuming office, Hoeven began working to build the state's future by focusing on six pillars of growth: education, economic development, agriculture, energy, technology and quality of life.
Under Hoeven's leadership, North Dakota has expanded and diversified its economy, adding thousands of new jobs and growing its targeted industry sectors, including value-added agriculture, advanced manufacturing, energy development, technology-based business and tourism. He has advanced new incentives for economic development, renewable energy, and research and development, as well as additional investments in education. He has expanded funding for Centers of Excellence, an initiative that combines education and economic development to create higher paying jobs and new business opportunities for North Dakotans.
Protecting the state's citizens and communities has been another focus of Hoeven's administration with the introduction of new laws to strengthen the state's violent and sexual offender statutes. North Dakota has also expanded its efforts to combat substance abuse while helping young people involved with drugs through rehabilitative programs.
Hoeven chairs the Governors' Biofuels Coalition and serves on the Executive Committee of the National Governors Association. He previously chaired the Interstate Oil and Gas Compact Commission, the Midwestern Governors Association, and the National Governors Association's Health and Human Services Committee and Natural Resources Committee.
Krebsbach was born in Rugby, attended grade school in Silva and graduated from high school in Velva. She holds a bachelor's degree in business administration from Minot State University. While at MSU, she served as president of the Delta Epsilon Phi Sorority and as secretary of her senior class.
For 35 years, Krebsbach worked at Krebsbach's Inc., the family-owned business. Krebsbach's Inc. was the International Harvester farm equipment and motor-truck dealership in Velva and Minot.
In 1988, Krebsbach was elected to the North Dakota State Senate, and she has served on the following committees: education, agriculture, industry, business and labor, government and veterans affairs and appropriations. Krebsbach was chair of the Government and Veteran Affairs Committee from 1995 to 2005. In 2001, she served as president pro tempore of the senate.
Krebsbach is currently the chair of the Minot Area Development Corporation and is president of the First Lutheran Church Council. Other boards she currently serves on are Trinity Health, the Norsk Høstfest Association and the Minot State University Board of Regents. Past involvement includes the State Chamber of Commerce, the Souris Valley United Way, the Minot Credit Association, the Minot Job Service Committee and chair of the Minot Area Chamber of Commerce.
The MSU Alumni Association began presenting its award in 1967, and the first recipient was D. Archie Peterson. Last year's recipients were Jill Fuller, Charles and Jan Repnow and Gary Stenehjem.