Recipients 2014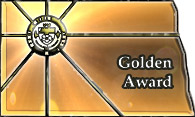 Three Minot State University alumni, Brenda Foster, Darwin Langseth and Tim Mihalick, will receive the MSU Alumni Association's Golden Award Sept. 25 in the MSU Conference Center, 6 p.m. Kent Kirkhammer will receive the Young Alumni Achievement Award.
The highest award bestowed by the MSU Alumni Association, the Golden Award selections are based on outstanding service to the university or alumni association and distinguished leadership in the recipient's career or community. The Young Alumni Achievement Award recipient is between the ages of 21 to 39.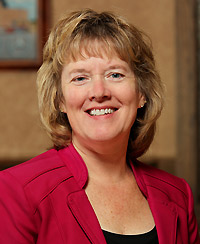 Brenda Foster
Foster graduated from Minot State University in 1984 with an associate degree in general and legal secretarial studies. Later, she returned to MSU and completed a Bachelor of Science degree in accounting and a concentration in banking and finance in 1992. Foster is executive vice president at First Western Bank & Trust, where she has been employed since 1981.
The Minot native has served the community and state on a number of boards and committees and currently is immediate past president of the Independent Community Banks of North Dakota's board of directors. She serves on the board of directors for Minot Public Schools and the Minot Public School Foundation. A Junior Achievement volunteer, she was instrumental in bringing Junior Achievement to Minot in 1997.
Foster has served Minot State in a variety of capacities. She is currently a member of the MSU Accounting Advisory Board and a new member of the MSU Board of Regents. She is a past president of the MSU Alumni Association, a past participant in the Beaver Booster Membership Drive and a past member of the MSU Task Force of the Chamber of Commerce.
Foster and her husband, Wayne, have a daughter, Danielle, who is currently attending MSU, and a son, Dustin.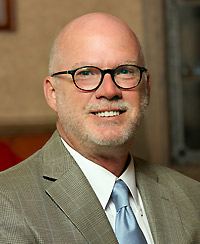 Darwin Langseth
Langseth, a Minot native, is a proud alumnus of Minot State, where he earned his Bachelor of Science degree in music education in 1974. Langseth, president of Minot's Signal Management Corp, has been associated with the real estate industry for 30 years and is a two-time past president of the Magic City Apartment Association.
Langseth served as the MSU Alumni Association president from 2006 to 2008 and co-chaired the MSU Gala four times. He has also been a member of the MSU Board of Regents since 2008.
Within the community, Langseth is a past president and member of The Heritage Singers since 1974. He is also a past president and longtime member of Minot Y's Men and a past chair of the Minot Area Development Corp board of directors. Currently, he is co-chair of the Minot First Lutheran Connections Capital Campaign and a member of the Minot Planning Commission.
Artistically, Langseth has sung "The Star-Spangled Banner" and "God Bless the USA" with Wayne Semrau and Jerry Hanson at the Minot Y's Men's PRCA Indoor Rodeo. He has been a tenor soloist three times for the annual performance of Handel's "Messiah," and he has participated in MSU Summer Theatre.
Langseth and his wife, Nancy, have been married 40 years. They have two children, Nicholas and Annie, one daughter-in-law, Casey, and one grandchild, Evangeline.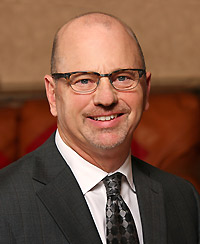 Tim Mihalick
Mihalick, a native of Youngstown, Ohio, attended Minot State University and obtained a Bachelor of Arts degree in business administration in 1981. During his college career, Mihalick played for Beaver football for four years and participated in track for two. He was inducted into the MSU Athletic Hall of Fame in 1995.
In Sept. 2009, Mihalick was named president and chief executive officer of Investors Real Estate Trust, after serving in various capacities in his 33 years at Odell & Associates, Odell-Wentz & Associates and IRET. Throughout the years, he has been involved in numerous civic organizations dedicated to the betterment of Minot. He currently serves on the YMCA board of directors; he is a past board member of Trinity Health and past chair of MSU Board of Regents.
Mihalick and his wife, Laura (Varty), have been married for 32 years and are partners in their conviction to civic engagement. Laura Mihalick is a member of the Minot Public School Board and the Souris Valley United Way board of directors, president of the Great Tomato Festival Committee and secretary of the Minot Public School Foundation. She also volunteers at Washington Elementary School. The Mihalicks have two children Elijah, a communications officer at IRET, and Nora, a recent graduate of Arizona State University.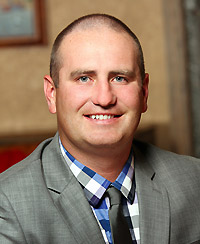 Kent Kirkhammer
Kirkhammer, co-owner of NewKota Services & Rentals, originally came to Minot from Pike Lake, Saskatchewan, to play hockey at Minot State University in fall 2002. While at MSU, he excelled. In addition to playing hockey, he was active in the Student Association as its director of intermural sports and in MSCOPE, serving as president his senior year. Kirkhammer received his bachelor's degree in physical education and corporate fitness in 2006, however, his career would take him in a much different direction.
After graduating, Kirkhammer substitute taught in the Minot area. In 2008, he married Chelsea (Peterson), an alumna, and began working for Pure Energy, a production testing company in the oil field. He quickly climbed the ranks to field superintendent. In 2011, Kirkhammer and Jarod Seifert, a co-worker and friend, started NewKota.
NewKota brought very specific resources to the North Dakota oil field and beyond. The business recently expanded to Wyoming and Colorado with hopes to soon be in Texas. Along with NewKota, Kirkhammer and Seifert have invested into several other business ventures that extend outside of the oil and gas industry.
Since starting his own business, Kirkhammer has increased his community involvement. He currently serves as vice president of the Minot Country Club board of directors and has played a major role in its rebuilding after the 2011 Mouse River flood. He is also a member of Minot's Rotary Club, Y's Men Club and the Minot Area Development Corporation's board of directors.
The Kirkhammers have two daughters, Elin and Madelyn.