Recipients 2011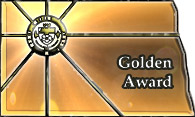 Four Minot State University alumni, Dale Elhardt, Thomas W. Fredericks, Jerry Spitzer and Judy Spitzer, received the MSU Alumni Association's Golden Award Thursday (Sept. 22). Dean Frantsvog, also an alumnus, received the Young Alumni Achievement Award.
The highest award bestowed by the MSU Alumni Association, the Golden Award selections are based on outstanding service to the university or alumni association and distinguished leadership in the recipient's career or community. The Young Alumni Achievement Award has the same criteria as the Golden Award with one exception - the recipient is between the ages of 21 to 39.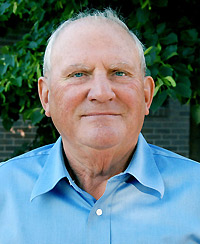 Dale Elhardt
Elhardt, professor emeritus from the Division of Social Science, joined the United States Air Force after graduating from Hazen High School in 1958. Posted to Minot Air Force Base after completing training in Texas and Mississippi, he began a 50-year association with Minot State when he enrolled as a part-time student in 1960. He and LaDonna (Pulver), of rural Beulah, married in 1961. Upon his discharge, they moved to Fargo and Beulah. Elhardt returned to MSU and graduated cum laude with a mathematics major and a sociology minor in 1968.
Elhardt again returned to MSU after completing a master's degree in sociology from the University of Arizona in 1970. He started a 31-year career as a sociology faculty member, a division chair from 1984 to 1990 and the College of Arts and Sciences dean from 1990 to 2001. Elhardt's emphases while dean were to support faculty scholarship, improve student instruction and promote the value a liberal arts education. He received a doctorate in sociology from Colorado State University in 1988.
Serving on many university committees, including the first system-wide salary committee, Elhardt also was on Faculty Senate and was its president for a year. Involved in several community and state research projects on aging, housing and displaced homemakers, Elhardt also served on a Minot Area Chamber of Commerce committee and the Minot Arts Council. He retired in 2001.
Elhardt and LaDonna have three children and four grandchildren.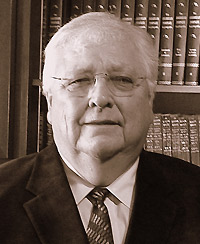 Thomas W. Fredericks
Fredericks, born at Fort Berthold Reservation's Elbowoods, is an enrolled member of the Mandan, Hidatsa and Arikara Nation. His ranch upbringing taught him to work hard and nurtured his drive to become educated and use his mind and not his brawn. His family's difficult relocation as part of the Garrison Diversion Project inspired his life-long commitment to change government policy toward Indian nations and individuals.
Fredericks attended tribal schools and Killdeer High School, excelling in all sports and attaining athletic scholarships to Minot State University. Briefly a high school teacher and coach after college, he was appointed the Economic Opportunity Program director for the Standing Rock Sioux Tribe. Encouraged by the tribal chairman, he participated in the University of New Mexico's Summer Indian Law Institute. While at the University of Colorado at Boulder Law School, Fredericks discovered his passion for Indian law. His work as a liaison between the California Indian Legal Defense Fund and the law school facilitated the founding of the Native American Rights Fund in Boulder in the early 1970s. While still a law student, he began as a clerk but quickly became NARF's executive director.
As NARF executive director, Fredericks was an integral part of the overall legal strategy during the 1970s, when the courts decided many major Indian legal issues. Later, he served as chief legal officer and then the primary policy official for Indian Affairs within the Department of the Interior as a political appointee in the Carter Administration.
Fredericks was the founding partner of his own law firm in 1979. There, he developed proficiency in many areas of Indian law involving tribal governance. He negotiated for tribes with the federal government concerning its trust responsibilities and the responsibility of the Bureau of Indian Affairs to provide technical assistance under P.L. 93-638 in management and finance. He also successfully litigated important Indian rights and resources cases.
Fredericks continues his devotion to representing Indian tribes as an equity partner at Fredericks Peebles & Morgan LLP, one of the nation's largest Native American law firms dedicated solely to the practice of federal Indian law. His influence in the field of Indian law remains vast. Fredericks practices law putting clients' needs above everything and lending his clients a strong feeling of security in his defense of their interests. This dedication has brought him a long career and lasting friendships.
Fredericks has mentored young associates throughout his career, particularly helping young Native American attorneys to advance. He has seen many associates under his guidance go from young law clerks to seasoned associates and even partners. He's seen his prodigies advance to important positions and successful careers of their own. It is impossible to measure his impact in Indian law, but his influence will last for generations beyond him.
Fredericks and his wife, Judy, have two daughters, Michelle and Monique, and four grandchildren, Elsie, Beau, Wade and Lucas.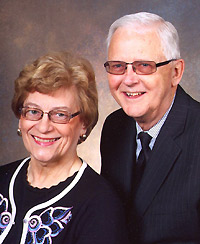 Judy and Jerry Spitzer
Jerry Spitzer grew up in Parshall, and he graduated from high school in 1955. After attending Concordia College in Moorhead, Minn., he transferred to Minot State Teachers College. Jerry completed a bachelor's degree in music from Minot State in 1963. Initially, he taught in public schools in Minot and Parshall. After working as an insurance agent and in banking, he was associated with the Mid-Dakota Chapter of the American Red Cross for more than 22 years. He was the chapter's executive director and served on its governing board. He retired in 2002. Presently, he works at Jacobsen Music on a part-time basis.
Jerry has directed several musical groups, including church choirs, through the years. He directed the Nodakord Barbershop Chorus for 27 years and just finished his 28th year as director of the Minot City Band. He feels honored to have directed two North Dakota Governor's choruses, Parshall Community Male Chorus for Gov. William Guy and the Minot Nodakords for Gov. Art Link. Currently, Jerry plays in the Minot Community Concert Band and is its president.
Judy Spitzer was born in Minot to W.D. "Doc" and Eulalie Allen. Doc came to Minot in 1925, when George McFarland was Minot State Teachers College's president, to organize Model High, a high school on campus. All the Allen children graduated from Model High. Judy continued on to receive a bachelor's degree in music in 1962 and a master's degree in music education in 1994 from Minot State University. She studied clarinet with Ira Schwarz, MSTC director of bands, and Himie Voxman, director of the University of Iowa School of Music, during college.
Judy is presently principal clarinetist in the Minot Symphony Orchestra and a member of its board. She recalls Minot Model High days when Arturo Petrucci directed the orchestra. She continues playing in the Minot City Band and the Community Band. She is a life member of Sigma Alpha Iota Professional Music Fraternity, Music Educators National Conference, North Dakota Music Educators Association, where she has served on the board of directors, the International Clarinet Association and other professional organizations. She is also a member of P.E.O. women's organization.
A public school music educator for 35 years, many of those years in the Minot Public Schools, Judy maintains a private woodwind studio in her home and regularly adjudicates area elementary and secondary music festivals. She was an adjunct woodwind instructor at MSU from 2007 to 2010.
The Spitzers have two sons, John and James, and four granddaughters.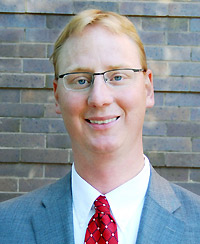 Dean Frantsvog
Minot native Frantsvog, who excels in a wide variety areas, graduated from Minot State University in 1997 with a bachelor's degree in criminal justice. Before completing his juris doctorate from Hamline University School of Law in 2000, he served as a senior associate with the school's Journal of Public Law and Policy. He also worked at the Erstad and Riemer law firm in Bloomington, Minn., during that time. Frantsvog then worked at Minot's Olson, Burns & Lee, P.C. In 2002, he became the youngest person ever elected to the Minot City Council. In 2004, Mayor Curt Zimbelman chose Frantsvog to serve on the council's executive board, and in 2008, council members elected him as their president. He currently serves in that capacity.
Frantsvog began his MSU teaching career in 2004. He is currently an associate professor of accounting in the Department of Accounting and Finance and the university' faculty athletic representative. In addition to teaching, Frantsvog works as a legal consultant, focusing on small business and financial matters. In 2008, the Minot Daily News named him to its list of top lawyers in the area.
Frantsvog chairs the Minot Recreation Board of Directors and the Minot High School Business Advisory Board. He serves on the boards of the North Dakota League of Cities and Trinity Health Foundation, as well as several other local and professional committees. Frantsvog is also a volunteer football and baseball coach.
His wife, Sara, also an MSU graduate, is a nurse in the Minot Public Schools. They have two children, Quaid and Cambry.