Recipients 2013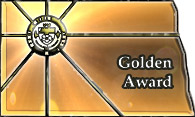 Four Minot State University alumni, Lona Anderson, Robert "Rob" Anderson, Gary Cederstrom and Clint Severson, will receive the MSU Alumni Association's Golden Award Sept.26 in the Conference Center (Student Center, third floor), 6 p.m. Nathan Conway will receive the Young Alumni Achievement Award.
The Golden Award is the highest award bestowed by the MSU Alumni Association, and selections are based on outstanding service to the university or alumni association and distinguished career or community leadership. The Young Alumni Achievement Award recipient is between the ages of 21 to 39.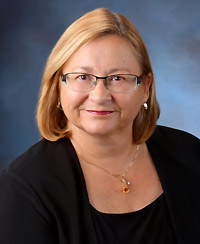 Lona Anderson
Lona Anderson, retired realtor, graduated from Minot State University in 1968 with a Bachelor of Science in Education. After teaching business classes in Casselton, New Town and Rugby, she moved to Minot and began a real estate career in 1978.
The Bottineau native was part owner of two real estate companies, Brokers 12 and Signal Realtors. During her 30-year career, she received many honors. She was president of the Minot Board of Realtors in 1984, Realtor of the Year for Minot in 1985 and 2001, North Dakota Association president in 2000, North Dakota Realtor of the Year in 2001 and North Dakota/South Dakota Certified Residential Specialist of the Year in 2001.
For MSU, Lona Anderson served on the Board of Regents, the MSU Development Foundation board, the College of Business Advisory Board, the Inauguration Committee for President David Fuller and a chancellor search committee. She initiated the MSU Business Mentor Scholarship Program in 2013. Her dream is that this program will have a lasting impression on the students who receive this scholarship money and the people who donate money and mentor students.
A founding member of the Minot Community Foundation's Power of the Purse, Lona Anderson is also involved in the Minot Symphony League. She is a past member of the YWCA board of directors and North Dakota State Fair Advisory Committee and a past trustee of Vincent Methodist Church.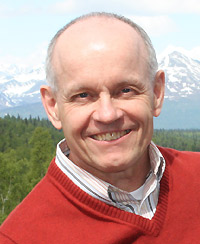 Robert "Rob" Anderson
Robert "Rob" Anderson, MSU art adjunct professor, graduated from Minot State with a bachelor's degree in elementary education in 1983. Later he returned to MSU to earn a master's degree in elementary education in 1999. As an undergraduate student, he belonged to the Tau Kappa Epsilon Fraternity.
After teaching for Minot Public Schools for 25 years, the New Rockford native retired in 2011. However, he was quickly called back into service to become the special assistant to the MSU president, or "flood ombudsman," after the 2011 Mouse River Flood.
As a member of the MSU Alumni Association board of directors, Rob Anderson has co-chaired Gala, the association's major fundraiser, and Gala's Presentation Committee and participated on the Promotions Committee.
In 2009, Rob Anderson was named MPS' Teacher of the Year. Professionally, he has been engaged in the North Dakota Education Association, Minot Education Association, North Dakota PTA board of directors, Minot Public Schools Arts Committee and MPS Curriculum Committee.
Locally, Rob Anderson volunteers at Christ Lutheran Church, the Scandinavian Heritage Park and Norsk Høstfest. In the past, he served on Minot Public Library's Long-Range Planning Committee and National Art Education Association.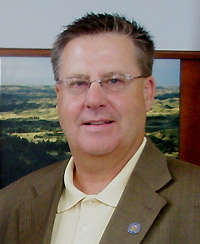 Gary Cederstrom
Gary Cederstrom, crew chief with Major League Baseball, graduated from MSU in 1978 with a bachelor's degree in physical education. While attending Minot State, Cederstrom belonged to the M Club and Sigma Tau Gamma Fraternity. He was also a member of the Beaver Baseball team for four years.
For the past 34 years, Cederstrom umpired professional baseball, joining MLB staff in 1997. The Minot native has umpired in six Division Series, six League Championship Series, one All-Star Game and one Japan All-Star Series. He worked both the 2005 and 2011 World Series. In 2012, Cederstrom was behind the plate for Johan Santana's no-hitter against the St. Louis Cardinals, the first no-hitter in New York Mets' history.
In the off-season, Cederstrom likes to return to North Dakota to hunt and fish. He maintains a home in Minot and enjoys watching the local teams compete. He also travels to California to work as an instructor at the MLB Urban Youth Academy and assists with the boys' basketball and baseball teams at Central Catholic High School in Melbourne, Fla.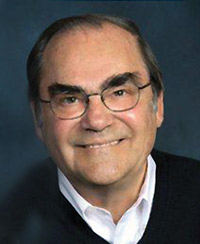 Clint Severson
Clint Severson, Forbes' 2007 "Entrepreneur of the Year," nurtured his industrious spirit with childhood jobs as a paperboy and grocery clerk in Minot. His North Dakota work ethic has served him well throughout his career. Presently, Severson is the president and chief executive officer of Abaxis, a point-of-care medical diagnostic company.
Graduating from MSU with a bachelor's degree in business administration in 1973, Severson's job search took him to San Francisco. He secured a sales position with the diagnostics division of Dow Chemical.
Severson spent 11 years working for Dow and Syva, a division of Syntax Pharmaceutical. In 1984 while working at 3M Diagnostic Systems, he discovered his true calling: turning small, start-up businesses into profitable companies. Severson's latest success story is Abaxis; under his leadership, sales have grown 28 percent, compounded annually to over $186 million per year and reach an operating profit of over $40 million.
Severson believes in the quality of education MSU provides. Feb. 9, 2010, Severson and Connie Ahart donated $1 million to establish the Severson Entrepreneurship Academy. SEA uses business courses to teach multidisciplinary classes related to the creative process of building a business. Through SEA, students write, analyze and evaluate business plans and grant seed money to exceptional student concepts. Beaver Brew Café, MSU's student-run coffee shop, opened its doors Sept. 3, 2012. Abaxis also provides internships for MSU students.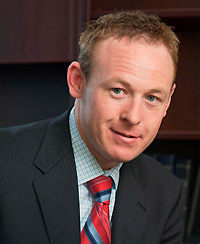 Nathan Conway
Nathan Conway is chief executive officer of Fortis Energy Services, a Michigan-based oilfield well services company. Previously, Conway was chief operating officer of Ward Williston Oil Company, a North Dakota-based oil and gas exploration and production company. He led the business' daily operations and oversaw its strategic plan to grow within the Williston Basin and expand its holdings in Colorado and Michigan. He directed the successful divesture of all Ward Williston's producing and non-producing assets in May 2012.
The Westhope native earned a Bachelor of Science degree in accounting from MSU in 2001. He holds an MBA from the University of Michigan's Ross School of Business, where he is an engaged alumnus.
Conway is active in his professional and local community as a member of the Independent Petroleum Association of America and chair of the Golf for the Gulf Charity Open. He provides monetary support and his business acumen to feed and educate African children, through Joint Aid Management, an African relief organization; he is a member of JAM's board of directors.
Business Watch Magazine and Prairie Business recognized Conway with their "40 under 40" business awards. Platts Global Energy Award recently selected him as a finalist for its Rising Star Award.