Recipients 2010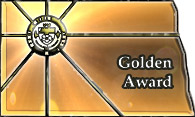 Three Minot State University alumni, Jon Backes, Ted Brinkman and Wes Luther, will receive the MSU Alumni Association's Golden Award, and Scott Louser, also an alumnus, will receive the Young Alumni Achievement Award on Thursday (Sept. 23) in the MSU Conference Center, 6 p.m.
The highest award bestowed by the MSU Alumni Association, the Golden Award selections are based on outstanding service to the university or alumni association and distinguished leadership in the recipient's career or community. Introduced to MSU this year, the Young Alumni Achievement Award has the same criteria as the Golden Award with one exception - the recipient must be between the ages of 21 to 39.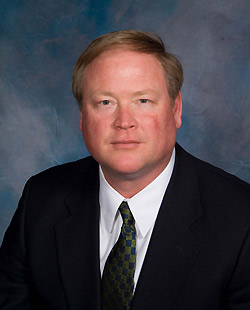 Born in Grand Forks and raised in Minot, Backes graduated from Bishop Ryan High School in 1979. He received a Bachelor's of Science degree in accounting from Minot State in 1984 and a juris doctorate with distinction from the University of North Dakota School of Law in 1990. In law school, he served on the editorial board of the North Dakota Law Review; and following graduation, he was selected as a member of the Order of the Coif, honorary scholastic society. Backes is a practicing attorney with the Minot law firm of McGee, Hankla, Backes and Dobrovolny, P.C., where his practice focuses on commercial, business and real estate law. He is a past president and a current member of the Ward County Bar Association and a member of the State Bar Association of North Dakota and the Colorado Bar Association. He is licensed to practice in the state and federal courts in North Dakota and Colorado.
In 2007, Backes began serving a four-year term on the State Board of Higher Education. He served as vice president in 2008 and 2009, and the SBHE recently elected Backes as its president.
Backes has served as a director in many community service organizations in the Minot area, including the Minot State University Development Foundation, the Minot Catholic Schools Foundation, the St. Joseph's Community Health Foundation, the Minot Art Association, the Minot Gun Club and the Minot Area Girls Fast Pitch Softball Association.
Backes and his wife, Karla, have three daughters Lexie, Katelyn and Brieann.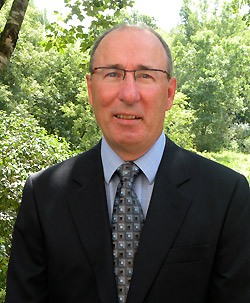 The youngest of five children, Brinkman was born four months after his father died. His mother raised her five children using her teaching degree, and he was the first one of his siblings to complete an undergraduate degree. Minot State offered him a wrestling scholarship to complete his education, and he earned a Bachelor of Science in Education with a major in business education in 1975. His Minot State experience was the platform from which many opportunities would come.
As a new graduate, Brinkman married Joan and accepted his first teaching position. He taught business education and coached all levels of wresting and girls' track for two years. After becoming the first employee of a new construction company and leaving teaching in 1977, life changed. Brinkman began investing in Edina, Minn., their community. He gave 11 years to a K-12 wrestling program, which became a feeder system to the secondary program. He remains the director for the Edina Prairie High School Tournament.
Brinkman became involved in two major community efforts. The first was the Edina Athletic Booster Club, which fundraises and ensures every dollar goes to athletic teams. His next challenge was bringing people together to merge the school system and community's needs, care, and updating of their athletic facilities. Brinkman received the Mayor's Commendation Award for his service.
Brinkman's career at Ungerman Construction Company continues today. In 2005, he purchased the company with Ron Ungerman Jr. Ungerman Construction Company has grown from 12 employees to 42 in five years, has added two new divisions and plans to build a new facility.
Brinkman is a business owner, community leader, husband, father and grandfather. Joan and Brinkman have two daughters, Lindsey and Kirsten.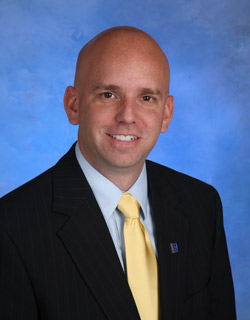 Minot native Louser graduated from Minot High School in 1989. While attending MSU, he ran cross country and track, capturing All Conference honors in cross country in 1992 and a district championship in the steeplechase in track in 1993. He received a business administration degree in 1994. In 2001, Louser returned to Minot State to complete a Master of Science in management, earning a Citation for Excellence.
Louser currently serves as a member of the Board of Regents, the Beaver Boosters and the Dean of the College of Business Advisory Committee. He was also MSU Alumni Association vice president. As a founding member and immediate past president of the Minot Young Professionals Network, Louser introduced and chaired the "Minot State Unity in Our Community" campaign. More than 100 local businesses participate by promoting MSU and opportunities to work with the university. He has also served as an adjunct faculty member in the College of Business and guest speaker to numerous classes.
A licensed realtor since 1997, Louser is the broker/owner of Prudential Preferred Properties. He was the Realtor of the Year for Minot in 2000 and 2006 and won the state Realtor of the Year award in 2006. He was local president in 2001, state president in 2005, regional vice president in 2009 and will be the National Association of Realtor vice president in 2012.
Louser volunteers for the North Dakota High School Activities Association. He has served on the Souris Valley United Way Board of Directors, and in May, he gave the keynote speech for the KMOT Best in Class reception.
Louser recently married Alexa, who has a son, Garett.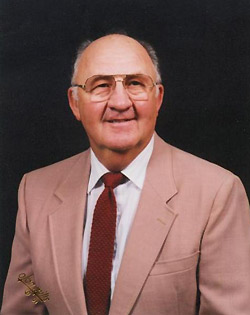 Professor Emeritus Luther began his career at Minot State University in 1966 as the track coach. He became athletic director in 1976 and helped develop the Beaver Boosters, a scholarship support group for student athletes. A charter member of the university's Athletic Hall of Fame, Luther was named the National Association of Intercollegiate Athletics District 12 Coach of the Year in 1973 and Athletic Director of the Year in 1987.
In 1968, Luther became head basketball coach and produced four North Dakota College Athletic Conference championships in seven years. His conference championship teams in 1971-1974 participated in the NAIA district playoffs, placing second in 1971, winning the title in 1972 and advancing to the national tournament. His basketball teams compiled an overall record of 102-57.
The Rugby native earned his bachelor's degree in physical education from Minot State and a master's degree from the UND. As a Minot State student athlete, he participated in football, basketball and track, earning the most recognition in football. He was a four-year all-conference pick and was the third-leading scorer in the nation in 1947. He was also a third-team Little All-American the same year.
Prior to assuming his coaching position at MSU, Luther served as head basketball and track coach at Fessenden for seven seasons. He also coached basketball at Devils Lake and Beulah.
Luther emphasized the academic side of college athletics. He supported education in addition to athletics; he always stressed the educational opportunities that existed to student athletes.
He and his wife, Donna, have three children, Mark, Mike and LeAnn.