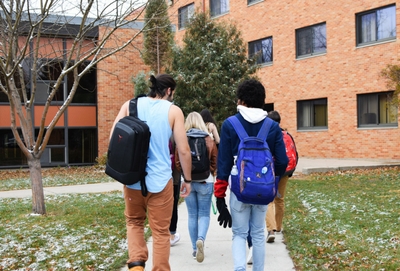 Camps and Conferences
Guest Housing (Individuals, Camps, or Conference Housing)

Guest housing is available for groups or individuals affiliated with Minot State University or the North Dakota University System (NDUS). This form is to be completed for Summer Camps, Interns, Conferences, and other short-term housing requests. Groups are assigned housing on a first-come, first-served basis. 
Groups not affiliated with Minot State or the NDUS should call before completing an application to determine eligibility.  
To request camp or conference housing, please complete our Guest Housing Reservation Form. Reservations can take 5 business days to process.  
Rates 2023-2024
Guest Housing Rates
Occupancy
Rate (per person, per night)
Double Room Occupancy
$18.00
Single Room Occupancy*
$33.00
Housing is available based on availability. Residence Hall rooms are furnished with 2 twin beds, 2 desks, 2 chairs, and closet space. *Single rooms are only provided after considering all participants first receive a space.
Guests are encouraged to bring their own bed linens and towels. 

Minot State Camps
Camp hosts are responsible for maintaining emergency contact information for their participants. 

Camps are responsible for providing counselors for campers under the age of 18, the maximum ratio is 1 counselor: 25 campers.

Final Rosters of attendees can be emailed to msu.housing@minotstateu.edu 
Guests acknowledge that they are voluntarily staying at Minot State and will be living in campus housing. They agree to abide by the Code of Student Life and Residence Life Community Handbook. They understand that failure to abide by this statement of conduct may lead to removal from Minot State University.
Questions
msu.housing@minotstateu.edu
701-858-3363.
Residence Life & Housing Office Regular Hours: Monday- Friday 8:00 am - 4:30 pm (CST)