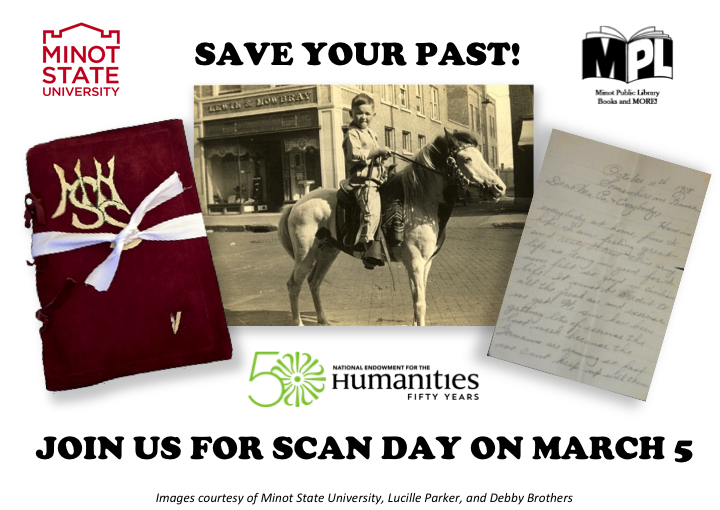 Minot's Common Heritage
Scan Day at Minot Public Library
Saturday, March 5, 2016
Interested in preserving family history materials? Bring in your photographs, family letters, artifacts, and more, and the MSU History Department will scan them and provide you with a digital copy at no charge to you. If you wish, the digitized items can be added to the Digital Minot public history project. Scan Day is Saturday, March 5 from 10 AM to 4 PM at the Minot Public Library, 516 2nd Ave. SW, Minot.
This program is supported by the National Endowment for the Humanities, Minot State University, and the Minot Public Library.
Scan Day Frequently Asked Questions
What can I bring?
A. Bring papers, letters, journals, photos, textiles and any other items that are important to your past.  Medals, coins, and other small objects can also be scanned.
Q. But don't you want only stories that fit your project?
A. No!  The point of the project is to help community members preserve what is important to them.  Bring items you that matter to you.
Q. Do my materials have to be about Minot?
A. No.  Life in Minot connects people with experiences from all parts of the world.  It doesn't matter where your documents, photos, or items were written, taken, or produced.  If they're somehow connected to you and your family they count.
Q. Will I have to leave my documents?
A. Absolutely not!  You will accompany a Digital Ambassador and your documents during your visit.  
Q. How will I get copies of the "scans" made during Scan Day?
A. Each visitor will receive a USB-drive with scans of their materials.
Q. How much can you scan?  I have 14 boxes of old WWI letters from my relatives.
A. We will start with a selection of what is most important to you.  Depending on the number of people who attend, we might be able to do more, but not all 14 boxes.  But if you really have 14 boxes of WWI letters we definitely would like to visit about setting up a separate visit!
Q. How can I contribute scans of my items to help the "community" part of this project?
A. When you sign in you'll be offered a simple release form that lets you donate digital copies of your materials to the project.  We'll handle the technical part.
Q. Is donation of copies required?  I just want scans to take with me.
A. No, you don't have to donate copies, but the project organizers would love it if you did. We're hoping to paint a broad picture of all sorts of experiences of life in our region and your documents will help.
Q. Who would be interested in copies of my old family materials?
A. Historians, community members and students all are interested in the rich experiences of people like you.
Q. I'd like to do a bigger scanning project.  Can that be arranged?
A. We certainly hope so!  The MSU History Department's Digital Minot project is always looking for new material.  You can leave your contact info and we'll contact you when we have a student intern available.
Q.  What about old home movies?
A.  We've made arrangements to have small quantities of super-8, VCR-tape, and similar old home movies transferred to a digital format.  This will be done off-site by a third party.  Bring what you've got and we'll evaluate it. 
Q. I have more questions!  Who should I ask?
A. Dr. Ringrose and Dr. Andreasen would be happy to talk with you about the project daniel.ringrose@minotstateu.edu  701-858-3037 or bethany.andreasen@minotstateu.edu 701-858-3243
---
Minot's Common Heritage
The National Endowment of the Humanities recently awarded Professors Bethany Andreasen and Dan Ringrose of the Minot State University History Department a grant to preserve "Minot's Common Heritage." History students and faculty will host "digitization days" at the Minot Public Library and area assisted living centers, where members of the public will be invited to share photographs, artifacts, family letters and artworks related to family and community history.
Items will be digitized, along with descriptive information and context provided by the community attendees. Contributors will receive a free digital copy of their items as well as advice on preservation and tips for handling flood-damaged materials.
With the owner's permission, the digitized materials will be made publicly available through the Digital Minot Project (http://digitalminot.minotstateu.edu/dm2015/). Sessions will be followed by electronic exhibits at the Digital Minot Project, as well as by a public presentation on community history in the fall.
Andreasen and Ringrose's grant proposal identified the motivation for the project as the desire to document the community's identity at a time when Minot is rapidly transforming after an unimaginably disastrous flood and by significant population and industrial growth related to the explosion of oil activity in the region.
Andreasen has worked in local history projects for several years, supervising history students in internships as part of the Digital Minot Project. "I appreciate the opportunity to guide history majors in interacting with the public at these digitization days, and in the research that follows, as it provides them with practical, hands-on experience in the field of history," Andreasen said.
Ringrose's work in digital history includes supporting the technology behind Digital Minot, the Veterans History Project and an online archival project digitizing letters from 19th century France. "This grant supports an exciting partnership with Janet Anderson, Minot Public Library director, to preserve memories and documents from individuals across our community," Ringrose said.
This grant is among the first of 38 national awards made under NEH's Common Heritage grant program. Created in April 2015, this program is part of "The Common Good: The Humanities in the Public Square," an agency-wide initiative that seeks to enhance the role of the humanities in civic life (http://www.neh.gov/commongood).
"Digitization Day" at the Minot Public Library will take place in early March. For more information about the project, contact Andreasen at bethany.andreasen@minotstateu.edu or Ringrose at daniel.ringrose@minotstateu.edu.