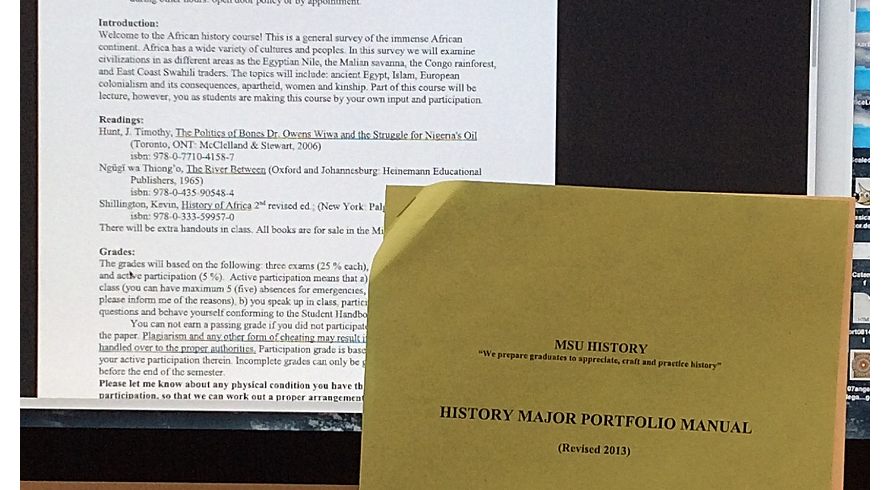 History Portfolio and Resources
History Portfolio
The History program uses a portfolio to measure each graduating History B.A. and History B.S.Ed. student's achievement of the program's student learning goals and outcomes and to assess the program's overall effectiveness. Students collect their best work in history over their college career together with a self-assessments that discuss how this work demonstrates their achievement of the program's goals.
Why the portfolio?
It offers students the opportunity to measure their progress over the course of the major. It can also reveal strengths, accomplishments, and mastery of the goals and learning outcomes that structure the history major.
It complements other assessment instruments, particularly those employed by the Teacher Education Program, to ensure that relevant state and national standards are met.
It gives each graduate a compilation of his or her best work to include in graduate or law school applications as well as to support job applications and interviews.
It enables history faculty to assess annually a group of history major portfolios that provides direct measures of students' performance and students' perception of their performance. It also allows faculty to compare those measures with program goals and learning outcomes and to consider possible changes, adjustments, or other responses for program improvement based on that comparison.
Completion and submission of a portfolio is a graduation requirement. The program introduces the portfolio early in the student's academic career (in History 280: Practice and Method), and faculty advisors regularly monitor students' progress. Students also must enroll in and complete History 97: History/Social Science Portfolio with a grade of S for successfully submitting their portfolio the semester they graduate. For more information, including detailed directions and electronic submission procedures, please review the History Portfolio Manual.
History Resources
The American Historical Association is the "largest professional organization in the United States devoted to the study and promotion of history and historical thinking," bringing together "historians from all specializations and professions" and "embracing their breadth, variety, and ever-changing activity." The AHA site offers a number of resources for teaching and working in history.
The Gordon B. Olson Library at Minot State University supports the instructional and research program of the university by providing materials for historical research: books, periodicals, indexes, government documents, reference works, and access to a number of electronic databases and other digital materials. Librarians are available to help you learn to locate and independently use the library's resources.
Both the Library of Congress and the National Archives provide an excellent selection of digital resources for historical research as well.
Citation Information

The History program uses the Turabian/Chicago style as its standard for footnotes, endnotes, bibliographies, and paper formatting. This style is described in Kate L. Turabian, A Manual for Writers of Research Papers, Theses, and Dissertations Ninth Edition and in the 17th edition of The Chicago Manual of Style. Both of these manuals are available in the reference area of Olson Library and can be purchased through the MSU Bookstore as well as through many online book sellers.
Online Citation Guides
Please check with your instructor to see which resources he or she wants you to use. If you can use an online citation guide, then the Georgetown University Library has a good Guide for Turabian Footnotes and Endnotes. Although not fully up to date (as it uses the 7th edition of Turabian's Manual), this guide does give the basic format for the most common types of sources.
The University of Chicago Press also publishes a Turabian Quick Guide online that has citation formats for many types of sources.
It is best not to use online "citation generators" of any kind. These programs frequently produce incorrect citations or citations with formatting errors that will paste into your document. Using the resources listed above will help ensure that your written work has correct and well-formatted citations.