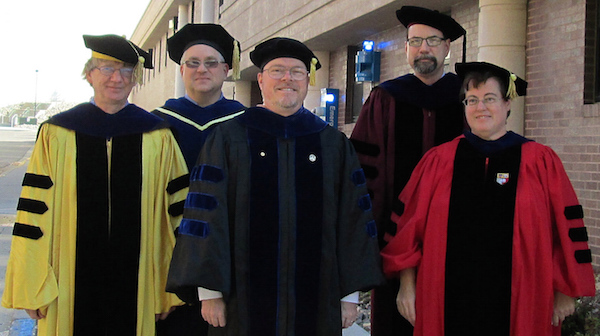 "The most colorful department on campus."
History Program Faculty and Staff
The History Program faculty at Minot State University have over eighty years of experience teaching, researching, and serving the university and the community. Our faculty offer a variety of courses in Atlantic Basin, European, non-Western, and United States history. Each full-time member of the faculty holds a Ph.D. from a major research university and is committed to teaching and scholarship; click their names below for information about their specific areas of teaching and research.
Full-Time Faculty 
Professor of History
History Program Coordinator; Coordinator of Digital Minot
Office: Old Main 202H
Email: bethany.andreasen@minotstateu.edu
Phone: (701) 858-3243
Professor of History
Native American Studies Program Coordinator
Office: Old Main 201C
Email: joseph.jastrzembski@minotstateu.edu
Phone: (701) 858-3322
Professor of History
Office: Old Main 201B
Email: ernst.pijning@minotstateu.edu
Phone: (701) 858-3509
Professor of History
Chair, Division of Social Science
Office: Old Main 202H
Email: daniel.ringrose@minotstateu.edu
Phone: (701) 858-3037
Associate Professor of History
Office: Old Main 202D
Email: mark.singer@minotstateu.edu
Phone: (701) 858-3134
Emeritus and Part-Time Faculty
Emeritus Professor of History
Email: jonathan.wagner@minotstateu.edu
Christina Sunwall
Instructor of History
Email: christina.sunwall@minotstateu.edu
Administrative Staff
Lauren Young
Administrative Assistant (Division of Social Science and Division of Performing Arts)
Office: Old Main 202A
Email: lauren.young@minotstateu.edu
Phone: (701) 858-3130