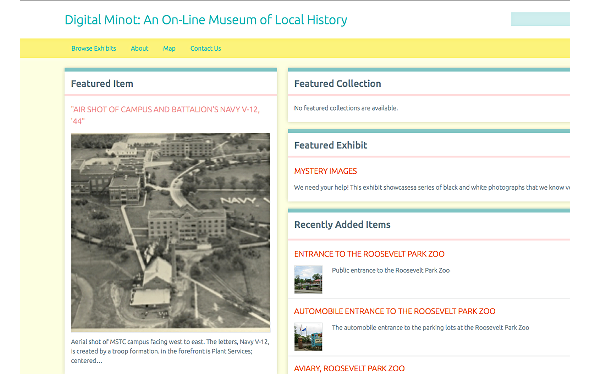 Digital Minot
The Digital Minot Project is transitioning to new software and a new server. If you have questions or would like access to a particular project, please contact Dr. Ringrose.
Digital Minot: An Online Museum of Local History is dedicated to preserving and sharing Minot's common past and to linking student research more wholly with Minot State University's surrounding communities. Students researchers engage in professional practice of their historical research and writing skills through interactive projects with individuals throughout the Minot region. These student researchers have collected many of the materials and created distinct exhibits on individual topics displayed on the Digital Minot site.
Dr. Bethany Andreasen founded and coordinates the Digital Minot project, which is supported by the Minot State University History Department. For information on Digital Minot, contact Dr. Andreasen at bethany.andreasen@minotstateu.edu. For technical questions, please contact Dr. Daniel Ringrose, daniel.ringrose@minotstateu.edu.