Division of World Languages and Cultural Studies
Chair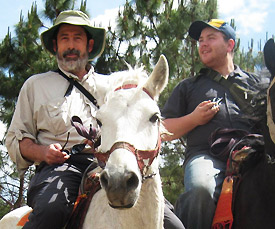 Robert Kibler and MSU student Bill Luetzen explore the ancient Tea-Horse Road, Southern Himalayas
Welcome to the Division of World Languages and Cultural Studies at Minot State University: English Literature and Writing, World Languages, Humanities, and Gender Studies. Here you will find some of the best qualified faculty in the state and in the nation, dedicated both to sharing with you our knowledge of the Liberal Arts, and encouraging in you passions for a life understood through our fields of study. We can help you learn a language, write an essay, parse a noun, write a poem, and in all ways, we will collaborate with you to help put your intellect into action. We as faculty will join with you in discussions and activities stressing the links between skills and ideas, traditions and innovations, knowledge and imagination, words and truths. These are big and important tasks, and we mean to invite you into them because doing so serves as our greatest purpose. Check out our faculty websites, ask us your questions, and come for a visit. We believe you will like what you see, and it is our sincere hope that you will come and join us here. Together, we can take on the world.
Onward!
Robert Kibler, chair, Division of World Languages and Cultural Studies.
701-858-3876 or robert.kibler@minotstateu.edu
---
Mission Statement
The Division of World Languages and Cultural Studies fosters critical and creative engagement in the study of diverse literatures and languages, cultures and societies, with the expectation that we are helping prepare the next generation of doers, innovators, and leaders for the world.
Program Goals
Humanities students at Minot State study the expression of the human spirit in words, images, and actions. This includes:
Exercising control of language, writing, ideas, and creative expression, because words are power.
Studying the ways different cultures and historic periods express their unique spirit in words and images, because the past is our prologue.
Analyzing how other individuals and groups express their unique vision and spirit in words and images, because their worlds are our worlds too.
Comprehending and enacting the interdependent synergy of skill, meaning, vision, and communication in human expression, because behind all successful individuals, groups, and enterprises you will find these qualities always at work together, ideally for the greater good.
Divisional Humanities Scholarships
Scholarship opportunities is available to applicants majoring in one of the disciplines housed within either half of the twinned Divisions of World Languages and Cultural Studies, or that of Art, Broadcasting, and Communication. Successful applicants must possess outstanding academic records, and maintain sophomore, junior, or senior status. Awards are given based on the strength of the application and are decided by the Humanities Scholarship Committee with input from the faculty associated with the applicant's specific field. The Humanities Scholarship will be applied to the recipient's tuition over two semesters of the following academic year. A minimum GPA of 3.25 is required to apply.
Additional Scholarships
Award opportunities are also available in English and World Language.
Departments and Programs
---
Division of World Languages and Cultural Studies 
500 University West
Minot, ND 58707
Savannah Wateland
Administrative Assistant
savannah.wateland@minotstateu.edu
Old Main 301 Admin Suite
Phone: (701) 858-3170 or 1-800-777-0750
Fax: (701) 858-3894