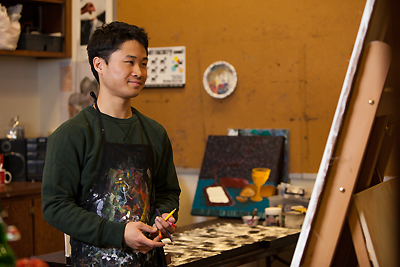 Janet Wentz Memorial Endowment Fund for Music, Theater, and Art
Funding from the Janet Wentz Memorial Endowment, approximately $6,000 to $6,500 a year, supports initiatives in Music, Theater, or Art once every three years. The award is dedicated to support activities, events, and programs impacting the full department or division.
1. Rotation Schedule (Academic Year)
2022 - Art
2023 - Music
2024 - Theater
2. Qualifications and Application Procedures
Applications for these awards must be dedicated to full-program initiatives.
Applications are to be reviewed and endorsed by the respective department/division chair and the VPAA.
Departments/divisions are eligible to apply in the academic year identified in the rotation schedule.
The amount of funding depends on the amount available in the fund (in an approximate range from $6,000 to $6,500).
Applications should include a short narrative (no longer than 250 words) describing the initiative (i.e., purposes/rationale, budget, timetable, and implications).
The VPAA's office will select two possible choices from the department each year and submit them to the President, who will select the application to receive the funding.
Applications should be submitted to the office of the VPAA before March 1st. The VPAA will make recommendations to the President before Spring Break. Funds will be available September 1st each  academic year. 
3. Report and Presentation
A brief report (one page) will be submitted by the department faculty to the VPAA's office within three months following the completion of the project or initiative funded by the Janet Wentz Music, Theater, and Art Memorial Endowment Fund. If necessary, the project leader(s) may be asked to make a brief presentation about the project to other faculty at the College of Arts and Sciences (CAS).