RN to BSN 100% Online (BSN Completion Program)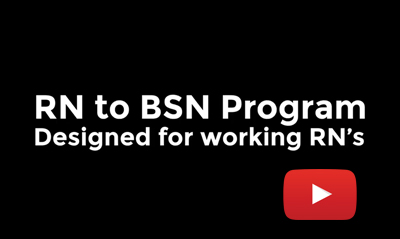 The Minot State University BSN Completion Program is for the registered nurse (RN) who wishes to pursue a Bachelor of Science Degree in Nursing. 
The BSN Completion Program is available in a flexible and convenient online format. The goal is to facilitate successful completion in the program by identifying a plan of study, part-time or full-time, for each RN student that matches their needs.
See the RN to BSN Program fact sheet to find the following:
Admission Requirements
General Education Requirements
Sample Nursing Curriculum
Graduation Requirements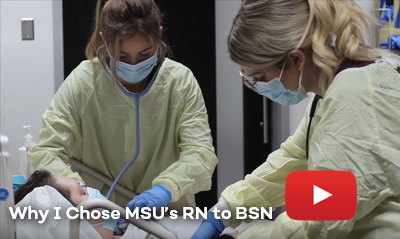 The BSN Completion Program builds upon prior learning and experiences. Each course is designed to provide the RN with advanced knowledge in nursing concepts and principles. This new knowledge is directly related to the professional nurse's roles and responsibilities regarding individuals, families, groups, and the community.
How quickly can I get my RN to BSN?
Our 100% online program was designed so students can develop a customizable plan of study to fit the demands of their life.
 
The length of time to complete the program is determined by the students desired
workload and the amount of general education courses needed. Students can complete the program in as few as two semesters if they have met all of the general education requirements.
How many general education courses do I need to take?
Each student has a unique educational background. Transcripts will be carefully evaluated to determine the general education courses that are needed for you to graduate with your BSN.


Your academic advisor will work closely with you to determine a plan of study that works best for you.
Will I need to do clinicals?
The program offers indirect and direct clinical experiences through a variety of specialized assignments in the Public Health for the Professional Nurse course.  An example of one of the clinical assignments is assessing your community by conducting a windshield survey.  The student will choose an area of concern or pressing need and develop a plan to address that need through evidence-based interventions.


Clinical experiences are completed independently in your community.  Students are not assigned to a healthcare facility.
How much will it cost to get my RN to BSN?
Each student enters the program with a unique academic history.  Students may need to take more or less general education courses than others.
 
Students are encouraged to complete the MSU Scholarship Application and the FAFSA. Completing the FAFSA will help you determine if you qualify for grants, low interest, or no interest loans. Minot State University also has payment plan options available. 


Click here for the current cost per credit. There is a $250.00 course fee applied to four of the nursing program courses.
When can I apply to the program?
There are no due dates for application, you can apply any time.


Students that are in the final semester in their Associate Degree Nursing Program can apply and be granted conditional acceptance pending graduation and successfully passing their NCLEX-RN licensure exam.
Where can I find information about the curriculum and admission requirements
for the program?
The second page of our fact sheet outlines the general education requirements and nursing curriculum.


Additional information can be found on our web-page.
What are NCLEX-RN examination credits?
The NCLEX-RN examination credits acknowledges your prior studies and successful licensure.


Forty credits will be posted on the official MSU transcript during the semester of graduation.


The NCLEX-RN credits are also designed to help you meet the graduation requirement of a minimum of 60 credits at a four-year institution.
What services are available for online students?
On-line students have access to all of the support services that are available to our on-campus students. 


Services available but are not limited to: Academic Support Center (writing and tutoring are available virtually), Gordon B. Olson Library, on-line bookstore, Career Services, Student Health and Counseling (limited to ND students due to licensing restrictions across state lines), Access Services (formerly Disability Services), IT, free download software, and a state-of-the-art Wellness Center.
What if writing papers intimidates me?
Prior to starting the program, you will complete an on-line orientation that will provide you with
multiple resources to assist you with writing papers.


Your instructors and our writing center are also available to assist you.
Why should I choose Minot State University BSN Completion Program?
Our program has been successfully graduating RN to BSN students for over 15 years.


Our highly qualified faculty are supportive and responsive to their students' needs and understand the demands of work and family.


The baccalaureate degree program in nursing at Minot State University is accredited by the Commission on Collegiate Nursing Education, 655 K Street NW, Suite 750, Washington, DC 20001, 202-887-6791.


Almost half of our students at Minot State University graduate with no student loan debt.
Graduated from a board-approved nursing education program and have passed the NCLEX-RN.
Conditional admission if in the last semester of a nursing program before graduation.


Students that have not passed their NCLEX-RN may be conditionally admitted the first semester of the program and may take the following courses:


General education courses if needed
Required statistics support course if needed
NURS 363 Nursing Theory and Research
NURS 383 Professional Nursing I
Special topics course(s)
Minimum GPA 2.75 on 4.0 scale.


Submission of all required health and safety documentation.
Step 1.
Apply
 for admission to Minot State University. Submit all official transcripts from colleges and universities attended to the enrollment office. You do NOT need to send transcripts from colleges or universities within the North Dakota University System.
Step 2.
Complete
 the online application to the BSN Completion Program.
Step 3.  IMPORTANT:
 You must submit the following documentation before application can be processed.
A copy of your current, active, unencumbered NCLEX-RN Licensure. Students that have not taken their NCLEX-RN licensure exam will need to submit their licensure upon successfully passing.
 
A copy of your current American Heart Association Basic Life Support (CPR & AED) Training for healthcare Professionals certification.


A copy of your current personal health insurance coverage. 
 Step 4.  Contact the RN to BSN Program Director, Melissa Fettig at 701-858-3251                   or Melissa.Fettig@MinotStateU.edu to develop a plan of study.
For questions or additional information, call 701-858-3251 or email Melissa.Fettig@MinotStateU.edu. Program information, general education and graduation requirements, and sample nursing curriculum can be found on the BSN Completion Program webpage, BSN Completion Program fact sheet and Department of Nursing Handbook.
At Minot State, you pay our in-state tuition rate regardless of where you call home. Visit our COST AND AID page to find out more information.
For more information, please contact:
BSN Completion Program
Department of Nursing
500 University Ave W
Minot, North Dakota 58707
Department Phone: 701-858-3101 or 1-800-777-0750 ext. 3101
Fax: 701-858-4309
Email: nursing@MinotStateU.edu or Melissa.Fettig@MinotStateU.edu 
Melissa Fettig, Director BSN Completion Program 701-858-3251