Student Opportunities
Omicron Tau Chapter

Sigma (Sigma Theta Tau International, Nursing Honor Society)
Register for 19th Annual Northwest Region North Dakota Collaborative Conference April 8th, 2022
The name Sigma Theta Tau was chosen by the founders in 1922 from the Greek words storgé, tharsos, and timé, meaning love, courage, and honor.
The Omicron Tau Chapter of Sigma was established in 1998 at Minot State University. Sigma has roughly 530 chapters at more than 700 institutions of higher education worldwide with members living in more than 100 countries. Sigma's mission is developing nurse leaders anywhere to improve healthcare everywhere. Sigma's vision is connected, empowered nurse leaders transforming global healthcare. The local chapter provides opportunities for education, participation in community and global outreach projects, scholarship support, and leadership development activities.
How to Become a Member
Membership is by invitation to baccalaureate nursing students who demonstrate excellence in scholarship. Undergraduate students must have completed half of the nursing curriculum, achieve academic excellence (a cumulative grade point average of at least 3.0 based on a 4.0 grading scale), rank in the top 35% of the graduating class, and meet the expectation of academic integrity.
Honors at Commencement
As a member of Sigma, graduates wear the honor cord signifying academic achievement in the field of nursing. The cords are braided white and orchid ropes with tassels.

Omicron Tau Chapter Information
Chapter President's Message, Strategic Plan, Board and Committee Members
Chapter Opportunities to Serve on Committees
 
Calendar of Events:
November 16, 2021 5:00pm Board Meeting at Minot State University Memorial Hall Room 304 (Virtual option will be available)
December 10, 2021 Senior Nursing Pinning Ceremony (Colombian Club)
April 8th, 2022: 19th Annual NW Regional Collaborative Conference (Grand Hotel)

Future Meetings:
February 2022 Board meeting
March 2022 Annual meeting
April 8, 2022 Omicron Tau Educational Conference
May 2022 New Member Induction
May 2022 Nurse Day celebration TBD
May 2022 Board Transition meeting
Nursing Student Association
Minot State University Chapter (NSA-MSU) 
website: https://minotnsa.weebly.com
The NSA, what is it?
The NSA MSU Chapter is Minot State University's pre-professional organization open to any student declaring nursing as his/her major. NSA is the largest independent student professional organization in the United States. NSA provides the student with leadership skill development, educational opportunities, and community service opportunities.
The MSU Chapter is a member of the State Nursing Student Association of North Dakota (NSAND).
The Mission of the NSA is to:
Organize, represent and mentor students preparing for initial licensure as registered nurses, as well as those enrolled in baccalaureate completion programs;
Convey the standards and ethics of the nursing profession;
Promote development of the skills that students will need as responsible and accountable members of the nursing profession;
Advocate for high quality care;
Advocate for and contribute to advances in nursing education.
Develop nursing students who are prepared to lead the profession in the future.
Benefits of membership
Reduced rates on products and services:
Being an NSNA member saves you money. You will receive special reduced rates for nursing magazines, computer software, quality nursing apparel and accessories, textbooks, reduced registration rates for the NSNA Annual convention and the Mid-Year Conference. Members receive discounts on NSNA publications.
How to join:
NSNA dues are $35 per year. New members receive a $10 discount for their first year of membership. Students choosing the convenient two-year membership option also save $10. Refer to web site for more information.
 Two options are available:
Join online at nsna.org
Obtain a membership form from:  

Jaci Reep-Jarmin, Office: Memorial Hall 329, Phone: 701-858-4304
Kim Tiedman, Office: Memorial Hall 316, Phone: 701-858-4453
Students Profiles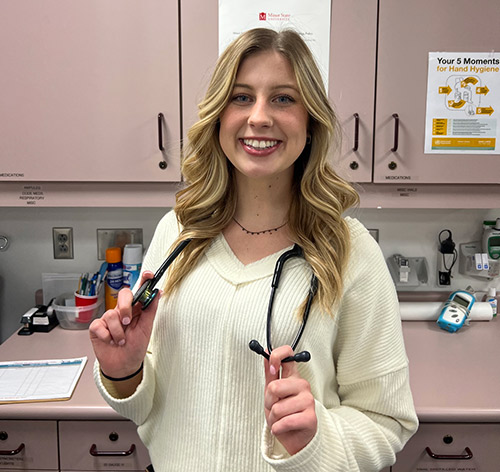 Hannah Wilkinson
2023 Student Nurse of the Year