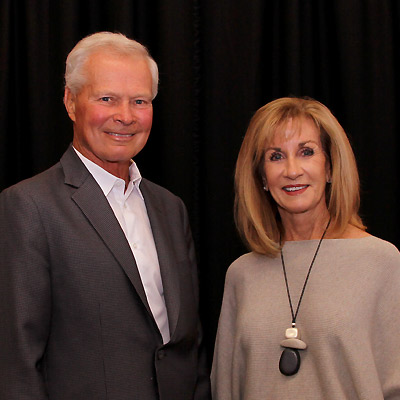 About Roger and Ann Looyenga
In fall 2019, Roger and Ann Looyenga gifted Minot State University $1 million to broaden the University's academic offerings in the area of leadership. The Looyengas are passionate about the area of leadership and are committed to ensuring current and future Minot State students have educational opportunities in this important area.
A Mandan native, Roger graduated from then Minot State College with a bachelor's degree in business education in 1968. While at Minot State, he participated in tennis, intramural wrestling, and intramural football, and was elected to the Student Council, the predecessor of today's Student Government Association. He belonged to the Letterman's Club, Greek Council, and was president of Sigma Tau Gamma Fraternity.
Following graduation from Minot State, Roger enjoyed a nearly 40-year career with Auto-Owners Insurance Company, a Fortune 500 company, working his way up through a variety of positions, ultimately becoming CEO in 2004 and Chairman of the Board in 2006. He retired from the CEO position in 2008 and as Chairman of the Board in 2009.
Roger has written three books, "Take the Stairs," "100 Years of Service and Success," and "Something Said." The Looyengas have two grown sons, and divide their time between homes in Michigan and Arizona.
---
Connections Magazine
 

 

 

For even more information be sure to view the Spring 2020 issue of the Connections magazine featuring the "Looyengas' legacy of leadership."
 
» Connections Spring 2020 [pdf]