Tall and beautiful and quick on her feet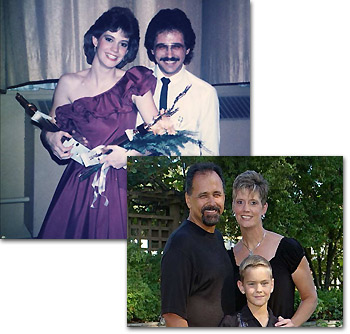 Gail (Warner) and I met in the Music Department, specifically in the music lounge, which was little more than a couch at the landing of a stairwell.
Her white lace socks first caught my eye as she walked down the stairs while I was sitting on that couch. She was 5'10" (6'2" with 80's hair) and beautiful. It seemed like the longest flight of stairs in the world before I finally caught her eyes. I was captivated from that moment on.
I inquired as to who this hottie was and learned that she was the Drum Major in the marching band. I thought to myself, "I used to play trombone. Aren't trombonists in the front line right behind the drum major? Where do I sign up?"
After about five months of chasing her around the field (I was a little slow back then), I finally caught her. We dated for nearly five years before tying the knot in July 1988.
Carl Bowers('88)
Gail (Warner) Bowers ('88)
Rohnert Park, CA