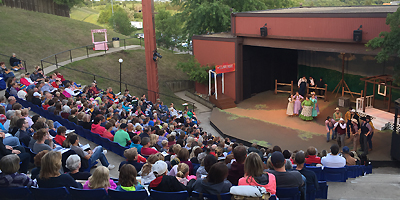 Theatre Arts Program
Summer Theatre - Season 53
All performances begin at 8:30 p.m.
Box Office opens at 7:30 p.m.
Information
Summer Theatre Company
Past Seasons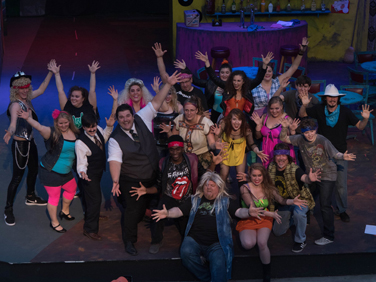 Tickets:
$15 - Adults
$10 - Seniors, Active Military, MSU Faculty, Staff and Summer Students with Current MSU ID
$5 - all youth 18 and under
Reservations begin May 29, call (701) 858-3228

The Theatre
The Minot State University Amphitheater has been the home of the MSU Summer Theatre Company since 1971. This beautiful outdoor theater is set in a grass-lined hillside north of the campus. A stage above the rest from the top of the hill!
Contact:
Chad Gifford, Artistic Director
chadgifford@gmail.com
Summer Theatre Company Season 53
Artistic Director:
Chad Gifford
Directors:
Chad Gifford, Ashley Nilsen, Jacob Jenkins
Music Directors:
Brianna Schwan, Teresa Hargrove, Kari Files
Company Stage Manager:
Peg Morris
Stage Managers:
Annika Kraft, Bethany Springs, Brian Mckinley, Brenna Heupel
Technical Director/Lighting Designer:
Chris Stroschein
Assistant Technical Director:
Annika Kraft
Box Office Manager:
Peg Morris
Costume Shop Manager/Designer:
Emily Taylor
Scenic Designer:
Brett Olson
Properties Designer:
Brenna Heupel
Choreographers:
Emily Rifenbury, Katie Langemo
Pianists:
Lori Zavalney, Tiffany Azzarello, Brianna Schwan
Box Office:
Mariah Spillers-Taylor, Brenna Heupel, Erin Hubbard
Costumes:
Shelby Cross, Kaaren Stuck, Bethany Springs, Erin Hubbard
Set Construction:
Brian Mckinley, Eric Clemons, Christian Gifford, Kole Erickson, Zachary Schuler, Hunter Benjamin
Publicity Manager:
Jazmine Schultz
Program Advertising:
Sharon Gifford
Building Art:
Katie Abrahamson
Logo Designer:
Aaron Michels
Sound:
Brian MacGregor White
Lights:
Kole Erickson, Autumn Grosz, Eric Clemons
House Manager:
Angie Thompson
Intern Supervisor:
Peg Morris
Interns:
Autumn Grosz, Mandy Marx, Grace Walker, Rebecca Meier, Cade Solberg, Teagan Wopat, Camden Gifford, Tyrel Warman
Concessions:
Haron Eymard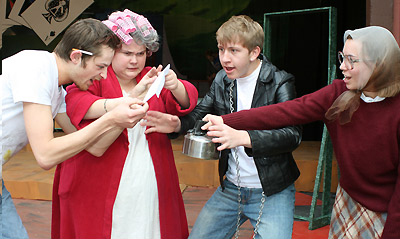 Past Seasons: