Summer Theatre Season 48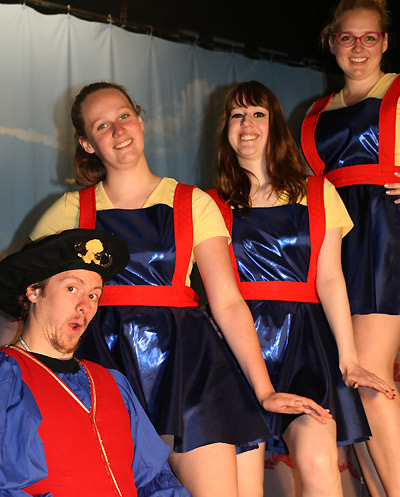 Shrek - The Musical
June 11-16
Book and Lyrics by David Lindsay-Abaire
Music by Jeanine Tesori
Based on the Dream Works Animation Motion Picture and the book by William Steig
SHREK THE MUSICAL, based on the Oscar® winning DreamWorks film that started it all, brings the hilarious story of everyone's favorite ogre to dazzling new life on the stage.
In a faraway kingdom turned upside down, things get ugly when an unseemly ogre - not a handsome prince - shows up to rescue a feisty princess. Throw in a donkey who won't shut up, a bad guy with a SHORT temper, a cookie with an attitude and over a dozen other fairy tale misfits, and you've got the kind of mess that calls for a real hero. Luckily, there's one on hand...and his name is Shrek.
Full of all-new songs, great dancing and breathtaking scenery, SHREK THE MUSICAL is part romance, part twisted fairy tale and all irreverent fun for everyone!
---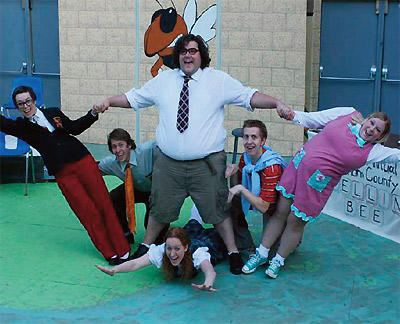 The 25th Annual Putnam County Spelling Bee
June 26-30
Music and Lyrics by William Finn
Book by Rachel Sheinkin
Conceived by Rebecca Feldman
Additional Material Jay Reiss
THE 25TH ANNUAL PUTNAM COUNTY SPELLING BEE is a hilarious tale of overachievers' angst chronicling the experience of six adolescent outsiders vying for the spelling championship of a lifetime. The show's Tony Award winning creative team has created the unlikeliest of hit musicals about the unlikeliest of heroes: a quirky yet charming cast of outsiders for whom a spelling bee is the one place where they can stand out and fit in at the same time.
---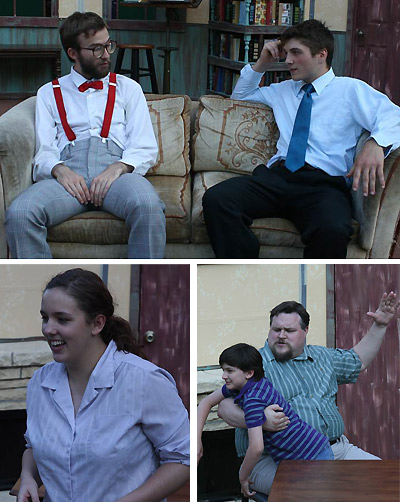 The Nerd
July 6-10
By Larry Shue
An aspiring young architect in Terre Haute, Indiana, Willum Cubbert has often told his friends about the debt he owes to Rick Steadman, a fellow ex-GI whom he has never met but who saved his life after he was seriously wounded in Vietnam. He has written to Rick to say that, as long as he is alive, "you will have somebody on Earth who will do anything for you"-so Willum is delighted when Rick shows up unexpectedly at his apartment on the night of his thirty-fourth birthday party. But his delight soon fades as it becomes apparent that Rick is a hopeless "nerd"-a bumbling oaf with no social sense, little intelligence and less tact. And Rick stays on and on, his continued presence among Willum and his friends leading to one uproarious incident after another, until the normally placid Willum finds himself contemplating violence—a dire development which, happily, is staved off by the surprising "twist" ending of the play.
---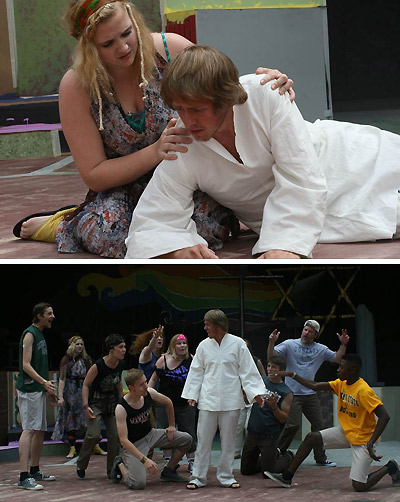 Jesus Christ Superstar
July 18-23
Music by Andrew Lloyd Weber
Lyrics by Tim Rice
It seems especially fitting that the first rock opera, created as a concept album at the end of the turbulent '60s, should have at its center a social and political rebel. Jesus' meteor-like rise in renown provides, as the title suggests, a parallel to contemporary celebrity worship. As his radical teachings are evermore embraced, Judas increasingly questions the enlightened motives of this new prophet, resulting in betrayal. Christ's final days are dramatized with emotional intensity, thought-provoking edge and explosive theatricality. Propelled by a stirring score, by turns driving and majestic, satirical and tender, JESUS CHRIST SUPERSTAR illuminates the transcendent power of the human spirit with a passion that goes straight to the heart.