Summer Theatre Season 47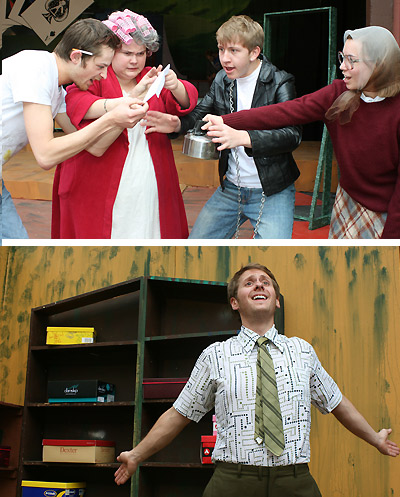 Lucky Stiff
Minot State University Summer Theatre's calendar begins with the musical "Lucky Stiff" June 12-17. The show is directed by Kevin Neuharth, artistic director for Summer Theatre.
"Lucky Stiff," based on the novel "The Man Who Broke The Bank At Monte Carlo," is a zany, offbeat and funny murder mystery farce complete with slamming doors, mistaken identities, a large amount of money and a corpse in a wheelchair.
This musical story revolves around an unassuming English shoe salesman, Harry Witherspoon, who is forced to take the embalmed body of his recently murdered Atlantic City uncle, Anthony Hendon, on a vacation to Monte Carlo. Should he succeed in passing his late uncle off as alive, Harry stands to inherit $6 million. If not, the money goes to Uncle Tony's favorite charity, the Universal Dog Home of Brooklyn.
First produced at Playwrights Horizons off-Broadway (Richard Rodgers Award), the show later went on to win Washington's Helen Hayes Award for Best Musical, and is now performed frequently across the country.
---
Love, Sex and the I.R.S.
The comedic farce "Love, Sex, and the I.R.S" is coming to the Minot State University Summer Theatre stage June 23-27. The show is the last play to be directed by Paula Lindekugel-Willis, recently retired MSU associate professor, who is moving at the end of the summer.
"Love, Sex, and the I.R.S." is a wild charade, written by Billy Van Zandt and Jane Milmore, with twists of fate, gags, mistaken identities and hilarious comedic lines. Follow Jon Trachtman and Leslie Arthur, out of work musicians, who room together in "the big apple," New York City. To save money, Jon has been filing tax returns listing the pair as a married couple. The day of reckoning comes when the Internal Revenue Service informs the pair that they are going to be investigated. Leslie masquerades as a housewife, aided by Jon's fiancee, Kate. Complicating matters further, Leslie and Kate are having an affair behind Jon's back, Jon's mother drops in unexpectedly to meet her son's fiancée and Leslie's ex-girlfriend shows up demanding to know why Leslie has changed and won't see her anymore.
---
Breaking Up is Hard to Do
Set at a Catskills resort in 1960, this musical performance involves Lois Warner and Marge Gelman, two best friends from Brooklyn in search of good times and romance for a wild Labor Day weekend. After being left at the altar by her groom, Gelman could not bear to go on her honeymoon alone, so Warner, an aspiring nightclub singer, comes to the rescue. Warner attempts to console her confidant by setting her up with the resort's handsome, self-obsessed singer Del Delmonaco. Watch as Warner's plan backfire when Delmonaco mistakenly assumes that Gelman's father can further his career to become the next teen heartthrob on "American Bandstand."
Follow this love story as Marge finds her real match in the shy geek who breaks out of his shell and shines through the crowd.
The score showcases 18 Neil Sedaka classics, including "Where the Boys Are," "Sweet Sixteen," "Calendar Girl," "Love Will Keep Us Together," and of course, the chart-topping title song. Sedaka, an American pop and rock singer, pianist and composer, has had a career spanning more than 60 years.
---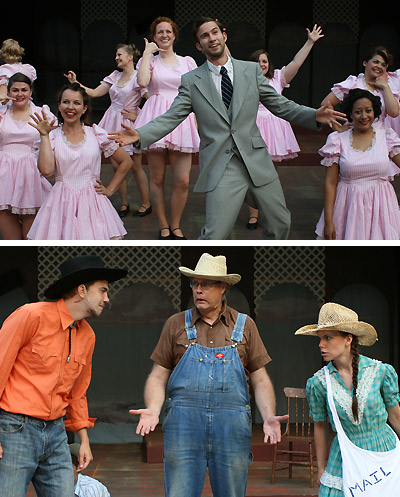 Crazy for You
Listen and enjoy the music and lyrics by George and Ira Gershwin as playboy Bobby Child fulfills his longtime dream to dance on stage. As a classic love story set in the 1930s, in "Crazy for You," New York native Child is sent to the small, poor town of Deadrock, Nevada, to shut down the local theater. Shortly upon his arrival, he meets and quickly falls in love with the theater owner's daughter, Polly Baker. Revel in the music and watch as Child dreams up an idea to put on a show to raise money in order to save the theatre.
The story is filled with cowboys, tap-dancing showgirls, mistaken identities and romance, all accompanied by Gershwin classics, including "They Can't Take That Away from Me," "Nice Work If You Can Get It," "Bidin' My Time" and "I've Got Rhythm." The timeless songs are sure to bring out the rhythm in audiences of all ages.
The show is directed by Aili Smith, Summer Theatre associate director.