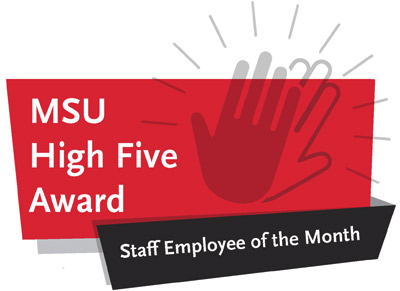 Staff Senate
MSU High Five Award
Staff Employee of the Month
The purpose of the MSU High Five Award is to recognize staff who have served MSU in an exceptional manner by exemplifying outstanding service through his or her work and exhibiting a positive and supportive attitude.
The MSU High Five Award was created to recognize staff members for their outstanding contributions to the university. Each month, one staff member will be selected to receive the MSU High Five Award and will be featured on the MSU Staff Senate website. Recipients will receive a variety of goods sponsored by area merchants. Anyone may nominate a staff member for this recognition; however, each recipient may only be recognized once per calendar year. Nominations are due by the last day of each month.
Nomination Form
All fields are required.
Thanks to our area sponsors: