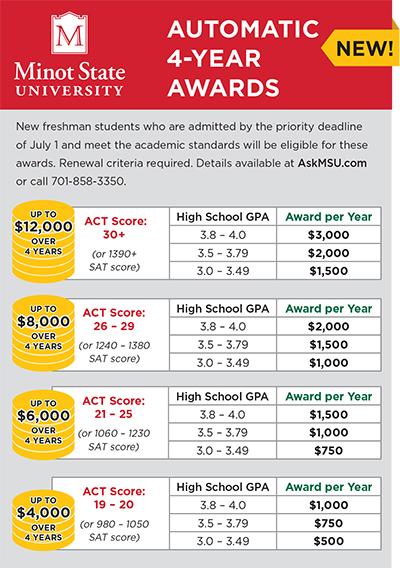 University Communications
Minot State unveils four-year renewable award
Minot State University (MSU) has announced the implementation of a newly created four-year renewable award beginning in the fall of 2018.
This award program is designed to attract new students who have demonstrated academic excellence in high school and to support their attainment of a degree from Minot State University. Awards will be disbursed each semester if the student maintains a high level of academic performance while enrolled at MSU.
"We are excited to begin offering four-year renewable awards to new Minot State freshmen in the fall of 2018," MSU President Steven Shirley said. "This program will directly assist students to make timely progress toward graduation and reward those students who succeed academically at MSU. This is one more tool demonstrating the unique combination of outstanding value and high-quality rigorous education provided at Minot State."
For more information about this new merit-based financial assistance program or to schedule a tour, please call 858-3350 or visit our website at http://www.minotstateu.edu/enroll/scholarships.shtml.
---