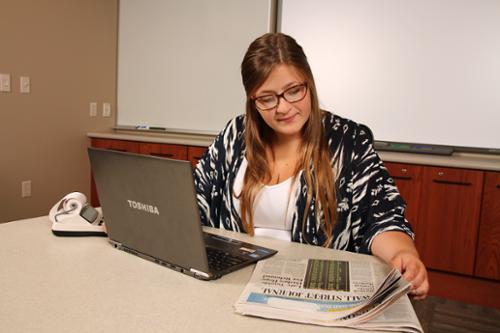 University Communications
U.S. News ranks MSU online business programs among best
Recently, the U.S. News & World Report reported Minot State University's College of Business online graduate and undergraduate online programs ranked among the country's best online education programs. Recognizing the growing significance of online education in the university experience and the unique, numerous factors involved in making online degree programs successful, U.S. News released its annual "Top Online Education Programs" rankings.
Among universities reporting their graduate business program practices, the CoB's online Master of Science in management and Master of Science in information systems ranked 78th in the nation for "Best Online Graduate Business Programs." CoB ranked 191st for "Best Online Bachelor's Programs."
"U.S. News ranked 1,200 programs, and Minot State's standing confirms that the College of Business has strong online management information systems and management programs on both undergraduate and graduate levels. This ranking is nationwide, where all institutions participate. When we compare our result to peer institutions of our size and from our region, it is considered an achievement," said Jacek Mrozik, College of Business dean. "It shows that our presence in this important and growing segment of online education is significant from the regional perspective, and MSU is one of the leaders for institutions of its size in this part of U.S."
MSU's online bachelor's degree programs include management, management information systems, marketing, international business, nursing for registered nurses, general studies, applied management and applied business information technology.
U.S. News ranked online bachelor's degree programs and online master's degree programs in business, engineering, nursing, education and computer information technology. Programs needed to have at least 80 percent of their course content available online. For questions, contact Mrozik at 858-3110 or jacek.mrozik@minotstateu.edu.


---