Theatre Arts
Our theatre program offers you several way to pursue your passion. whether it's in the spotlight or behind the scenes. Actors must be creative and believable. You must be physically and vocally adept as well as be willing to take risks. Those choosing theatre management over performance must be savvy in theatre, business operations, and marketing.
2021-22 Mainstage Productions

Coursework
Scholarships
Bram Davidson Scholarship — Established by the Davidson Family in memory of Bram. Recipients must declare a Theatre Arts Minor and possess a minimum 3.00 GPA.
Harvey and Arlone Twyman Scholarship — Scholarships are awarded to Theatre Arts Minors who have completed their first year and are actively involved in theatre activities. Recipients must have at least a 3.00 GPA.
Harold and Verna Aleshire Scholarship — Awarded to upperclass MSU students with a declared Theatre Arts Minor. Must maintain a 3.00 GPA.
Summer Theatre
Faculty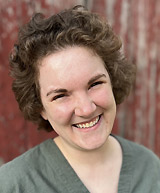 Sarah Belfrage Honerman