Hedberg, Gunville make the most out of internship opportunities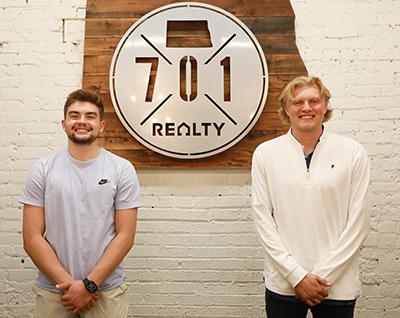 MINOT, N.D. – After securing internships and their real estate licenses from 701 Realty, Minot locals Mason Hedberg and Jaxon Gunville plan to take their hard work and talent to the Minot community.
Former Minot State University basketball teammates, Hedberg, a senior who played for four seasons for the Beavers, and Gunville, a junior guard on the 2023-24 team, have been working towards their finance and management degree.
"Up until now I really didn't know what I wanted to do," said Gunville. "Thankfully I heard about the internship and that helped me narrow it down a lot."
Both Gunville and Hedberg found out about the internship through Randy Conway, Minot State University Severson Entrepreneurship Academy director.
"The Severson Entrepreneurship Academy works closely with College of Business facility and staff to connect MSU students with the business community," said Conway. "Together, we have developed many paid internship opportunities with great organizations across several industries and locations.
"An internship is a great way for students to gain practical experience while they are attending MSU and a great way for businesses to make strong connections with students prior to graduation."
Having heard about the opportunity from Conway, Gunville saw how much the internship impacted his fellow teammate and decided to give it a try.
"When I saw Mason do it, it got me thinking about what I'm going to do and how I am going to make money," Gunville said. "It's one of those things I can always do to make money on the side, whether I take a finance job or not. And it also gives me an opportunity to give back to the community."
Now that both have had career-based experience, their thoughts are turning towards the future.
"I plan on doing real estate on the side and I've actually gotten another internship at a bank right now, and they offered me a job once I graduate," Hedberg said. "Using my experience from the internship at 701, I can use real estate as a form of passive income in the future."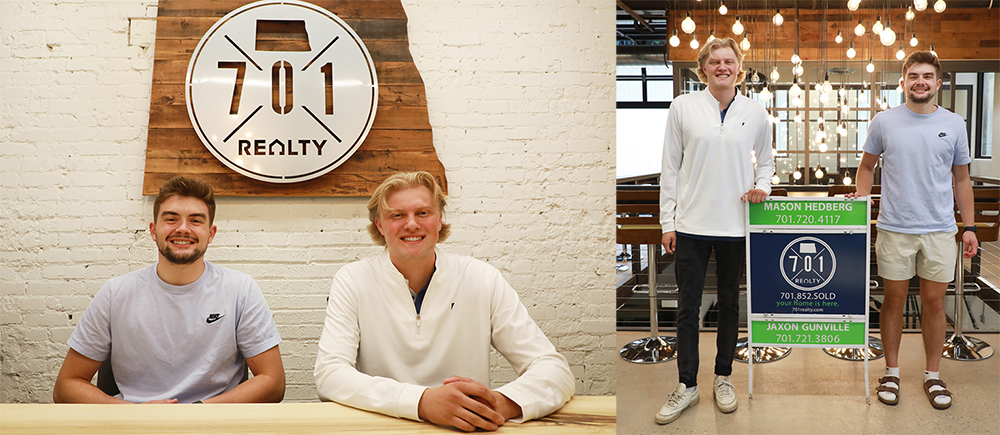 Although Hedberg finished his playing career and will graduate in December, Gunville has two more years, giving him a little bit more time to narrow down his career path.
"I'm really leaning towards starting in accounting and seeing where that takes me. I'll definitely do real estate on the side as well," said Gunville.
Having grown up here, playing basketball at Minot State, and now getting to watch their siblings grow up, both Hedberg and Gunville make no plans to leave the area.
"As athletes, we really get used to the idea of giving back to our community and that's something that I really want to be able to do here in Minot," said Gunville. "This internship really opened my eyes to the opportunity to do that."
They also found the low-risk value in pursuing their internships.
"I definitely recommend taking an internship. The Severson Entrepreneurship Academy allowed me to fully get the real-life experience," Hedberg said. "There's only so much you can really learn in the classroom, it's the experience that really teaches you how to do a job well."
"Internships for me were important because I didn't really know what I wanted to do, and there are a lot of people out there in the same boat," Gunville said. "If you have the willingness to try new things the worst that can happen is that you know that job isn't for you."
With Hedberg already having a salary position available to him after graduation, and a relator's license, and Gunville with his relator's license as well, the Magic City is lucky to have two very talented and passionate young men dedicated to giving back to their community.
About Minot State University
Minot State University is a public university dedicated to excellence in education, scholarship, and community engagement achieved through rigorous academic experiences, active learning environments, commitment to public service, and a vibrant campus life.
Published: 11/09/23   
---