Williams's passion for academia leads him to Minot State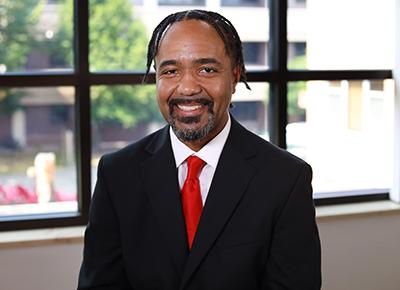 MINOT, N.D. – In February 2023, Minot State University had the privilege of welcoming Alaric A. Williams as the new assistant vice president for academic affairs.
Williams is from the city of Stamps, in southern Arkansas, and has had quite the adventure on his way to Minot State University. Before developing a passion for academia, he started off as an accounting major in university. 
"One semester of accounting 1 and economics 1 was enough for me. As a younger individual, I took on many roles," he said. "I worked as a custodian in a hospital while in college and almost every fast-food place you can name. In the summer, I even worked at a poultry processing factory but ultimately, I knew I wanted to be in a career where I helped people and made a difference."
His first full-time position in higher education was as an academic advisor at Texas A&M University -Commerce. While pursuing his master's degree, he also became a graduate assistant in the university's counseling center.
"This led to a full-time position after I finished my master's. I went into these roles because they were considered helping professions," he said. "I always wanted to have a career where I worked with people and impacted lives in a positive manner."
After that, he went on to head numerous positions in higher education while earning his doctorate, such as the dean of curriculum, accreditation, and the school of professional studies and applied sciences at Chadron (Nebraska) State College; department head and professor student affairs and center for leadership/learning administration at Arkansas Tech University; and assistant and associate professor at Angelo (Texas) State University.
"Each place I have been and each role I have served has given me unique experiences that prepared me for the next," said Williams.
Between late summer and early fall of 2022, Williams saw an ad for a position at Minot State University and decided to check it out.
"I reached out to a former student of mine who currently lives in North Dakota and two former colleagues who were in North Dakota at the time. I asked their thoughts on Minot State and the local community," he said. "All highly recommended I apply. I was offered an online interview, then a campus interview, and accepted the position after it was offered."
Now Williams gets to oversee the department chairs of academic units, assist with MOU's (Memorandum of Understanding) and articulation agreements, review course enrollments/course schedules and faculty evaluations, assist with new faculty orientation and new faculty interviews, review and resolve student complaints related to academics, represent MSU at professional meetings, campus, community events, and so on.
"I am excited about the opportunity and the impact I can make in my role. Any decision I make, I keep in mind what is best for the institution, the students, the faculty, and staff. What I have done thus far is made connections and gotten to know faculty, staff, and many of the students." he said. "I have done a lot of listening. It was important for me to build relationships early. Currently, I have been charged to assist the vice president of academic affairs, Laurie Geller, and President Steven Shirley with the transition to a revised academic structure."
Williams's interest in education was inspired by his mom and dad and how they pushed him to succeed. He is a first-generation college student, and he understands the work and discipline it takes to achieve this.
"I grew up in the southern part of the state where there were not many opportunities. I knew to be successful, I had to go as far as I could in my education," said Williams. "I have not sought accomplishments nor accolades. What is important to me is making a positive impact on those I encounter and doing what I need to ensure the success of others."
This journey has taught Williams the importance of having mentors who can guide and advise you.
"There have been a number of challenges, but personally, one has been that there are not a lot of people who look like me in higher ed leadership positions," he said. "I think it is important to have a support system on a personal level — family — as well as a professional level."
Just like his diversified work experience, Williams also has multiple, varied interests outside of work.
"I love to read, I am a crime podcast/tv show fan, and I love to work out," he said. "My wife and I wake up at 4 a.m. and CrossFit and I have been a Pittsburgh Steelers fan since I was 4 years old. There is a specific animal I have a phobia about (not snakes), but I will not share it until I have been at Minot State a little bit longer! My wife calls me Dr. Husband and I call her Dr. Wife, both of us are higher ed nerds, so our household conversations get pretty interesting."
Williams encourages current Minot State students to ignore the naysayers and keep pushing.
"Not everyone has your best interest in mind so be careful of the company you keep, and stay hungry, yet humble," he said. "Remember those who helped you get to where you are and pay it forward. Take positive risks. Always remember that someone is always watching you so be cautious of your actions.
"Most importantly, utilize the services provided to you on campus and remember why you are here!"
About Minot State University
Minot State University is a public university dedicated to excellence in education, scholarship, and community engagement achieved through rigorous academic experiences, active learning environments, commitment to public service, and a vibrant campus life.
---