Spreading wellness and connection: Rasmusan's impact at Minot State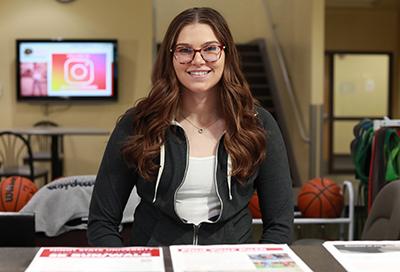 MINOT, N.D. – At the center of Minot State University, the Wellness Center radiates positivity and brings people together. Deann Rasmusan, originally from Glasgow, Montana, not only works there but has also created a wonderful atmosphere of health and communication that impacts everyone on campus.
Rasmusan's decision to attend Minot State was driven by a desire for proximity to home and a welcoming campus atmosphere. This small-town charm resonated deeply, cementing her choice to join the institution. 
"I chose to go to Minot State University because it was the closest college to my hometown that also had my program," she said. "I went on a campus tour soon after I was accepted and loved the small-town atmosphere the campus had. That is why I decided this was the college for me."   
Once she got to campus, it did not take long for Rasmusan to feel like she belonged. The strong sense of community at Minot State instantly appealed to Rasmusan. The campus's intimate environment and the warm interactions with fellow students fostered a sense of belonging that she cherished. 
"I love how the campus feels like a small town with a family vibe. Everyone you see is very friendly and helpful," she said. 
The idea of working at the Wellness Center was appealing to her from the beginning. She knew right away that was where she wanted to work. 
"I loved the atmosphere as we were walking through, so I thought I might as well try to work here! I applied very early in the summer and was hired before my first fall semester even started," she said. 
Even though an outside interest ignited her interest in speech-language pathology, she quickly realized it was the right path for her. 
"I had a family friend tell me that I would be a good speech-language pathologist (SLP), so I researched it a bit and thought it would be a fun and rewarding career," Rasmusan said.  
Drawing connections between wellness and communication, Rasmusan recognizes that motivation, a cornerstone of effective communication, plays an equally crucial role in personal wellness journeys. 

"Something that you learn when studying communication disorders is that without motivation, not much change can happen. One's own personal wellness journey depends a lot on their motivation," she said. "If a dimension of wellness is lacking in some way, a person could have difficulty finding the motivation to keep up with the other areas of their life."  
Rasmusan's time at the Wellness Center has exposed her to diverse cultures and communication styles. That has broadened her understanding of how cultural influences impact communication, enriching her ability to connect with people from various backgrounds. 
"Minot State is a very diverse campus, and many people who come into the Wellness Center are international students. How I communicate with international people has changed from when I started to now, after all my years of studying communication disorders. I understand more about cultural influences on communication," she said. 
Rasmusan's dedication to inclusivity shines through in her actions at the Wellness Center. Her commitment to welcoming every individual and making their day better contributes to the well-being of the University community. 
"I will always try to say 'hello' and 'have a good day' to every person that walks in and out of the Wellness Center. I will always try to do so with a smile and some more conversation as well. I want every person who walks into the Wellness Center to feel welcomed and like they belong there," she said. 
Previous Wellness Center assistant director Courtenay Brekhus echoes the same sentiment.
"She is such a hard worker. She rose quickly within the Wellness Center to the point that she was a student building manager and training assistant within her first two years," Brekhus said. "That is unheard of. She has grown a lot since I hired her, and she is now the employee who has been there the longest." 
Rasmusan's experience in the Wellness Center over the past six years has left an enduring impact. It has enriched her life and enhanced the lives of those she interacts with. 
"My involvement in the Wellness Center has been my life's most influential and positive experience. It has brought me many lifelong friends, taught me many lifelong lessons, and has always been a place of joy. I know, if I am having a bad day or am feeling frustrated, if I walk into the Wellness Center to work or workout, I will leave feeling better," she said. 
Rasmusan's journey at MSU is a testament to the remarkable power of cultivating well-being and positive communication within a community. Through her experiences and dedication, she has become a bridge between cultures and an advocate for inclusivity. Her journey reminds us that one person can make a difference in fostering a supportive and thriving environment.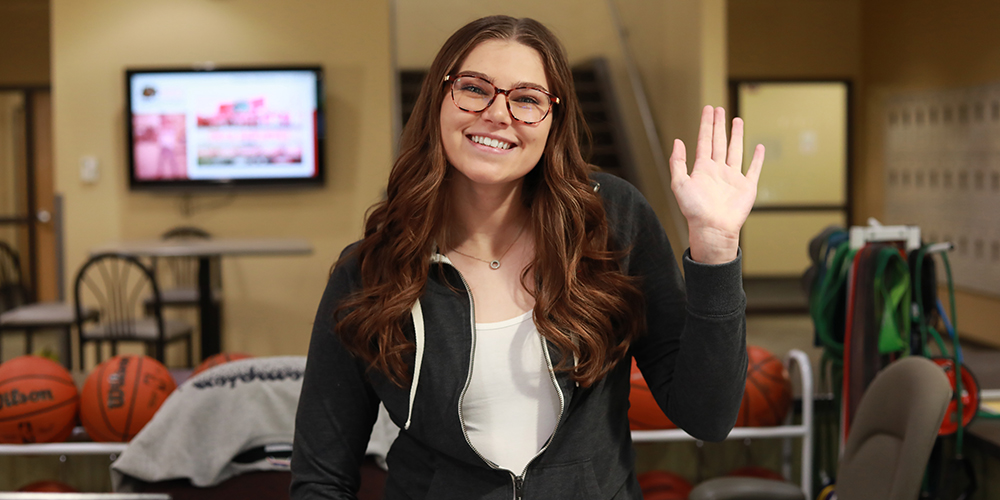 About Minot State University
Minot State University is a public university dedicated to excellence in education, scholarship, and community engagement achieved through rigorous academic experiences, active learning environments, commitment to public service, and a vibrant campus life.
---