Bowles returns to Minot's stage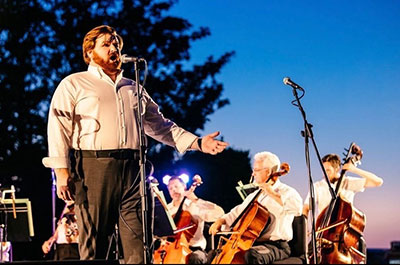 Bowles performing at the Dallas Opera's Arboretum showcase.
MINOT, N.D. – The Western Plain Opera's production of "Carmen" is a homecoming for Nathan Bowles '19.
"I've been fortunate; I've been able to sing in a number of halls but Ann Nicole Nelson Hall — I will maintain that it is the best hall to sing in. It has such a wonderful acoustic," the Minot State alumnus said. "It's so warm, and it very much feels like home for me."
Recently receiving his master's degree in vocal performance and a performance diploma from Southern Methodist University in Dallas, Texas, Bowles has been able to enter the working world exclusively as a performing artist.
"It's a crazy experience, you know, to go from the academic world right into the young artist world," he said. "That's not always the case straight out of grad school, especially for opera, so I'm very fortunate. I've got a lot of good people helping me out and guiding me to where I need to go as I work my way into my professional career."
Following the Sept. 8 and 9 performances of "Carmen," Bowles will fly back to Texas to the Dallas Opera's Education Outreach program to perform as Miguel in Offenbach's "Pèpito." Additional performances in Vaughan Williams's "Hodie" and Rachmaninoff's "All-Night Vigil" are also on the docket.
"Next year, I'm also really excited to be making my main stage debut as Benvolio in 'Romeo and Juliet,'" he said.
Bowles's role in the Shakespearean tragedy will occur on the Dallas Opera stage, one of the largest houses in the country in terms of size and scale of their productions.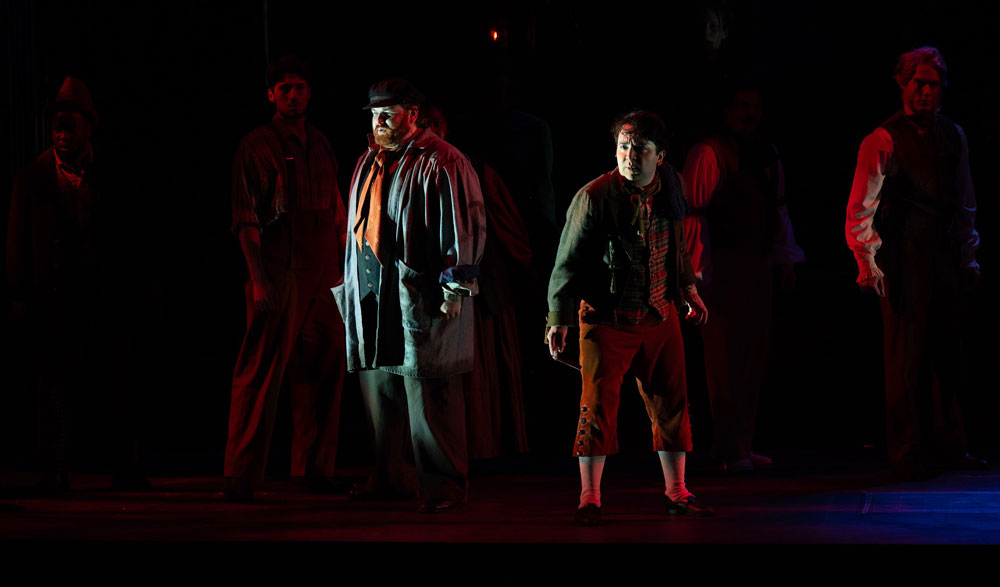 Bowles in Chautauqua Opera's production of "Sweeney Todd" colleague Felix Aguilar Tomlinson
From his first Western Plains Opera performance in "La Bohème" around age 7, the artist's path to becoming a professional performer may seem like destiny. Yet Bowles claims he didn't find his voice until he was an upperclassman at Minot State.
"The fun thing was my undergrad was in education, specifically choral education," he said. "But it wasn't until about my junior year that I really started to find my own voice working with my dad. And as I started to do that, singing sort of became a possibility."

Growing up under the tutelage of parents and now-retired Minot State music professors Kenneth and DeVera Bowles, he blames them "exclusively for all of my musical ability from a young age."
In addition to his parents' teaching abilities, Bowles credits the University's philosophy with young students as part of his success.
"As a hometown university, this was a good place to start. I got the chance to work very diligently at a small school, which is a good thing," he said. "I got a lot of individual attention, which at a lot of music schools, especially large ones, as an undergrad you would not get. I got opportunities to be in shows. At a bigger music school, you're lucky if you can even be in the chorus as a grad student, much less as an undergrad.
"Minot State was a good incubator to prepare me professionally to go out into the world and represent myself at my best."
Bowles's music repertoire took an unexpected turn during the Western Plains Opera production of Engelbert Humperdinck's "Hansel and Gretel."
"I was singing as a baritone all through my time here working with my dad," he said. "And then when we were doing 'Hansel and Gretel,' they brough in David Cangelosi, who's a tenor based in Chicago to sing The Witch.
"I was looking at grad schools, and he kind of pulled me aside after a rehearsal one day and said, 'I think you need to study with this guy, Clifton Forbis, a tenor.' He had about a 30-year career singing all over the world, like Wagner, and the most dramatic tenor repertoire there is. And David played a video off his phone of him singing, and I was like yeah, I think I do need to go work with him."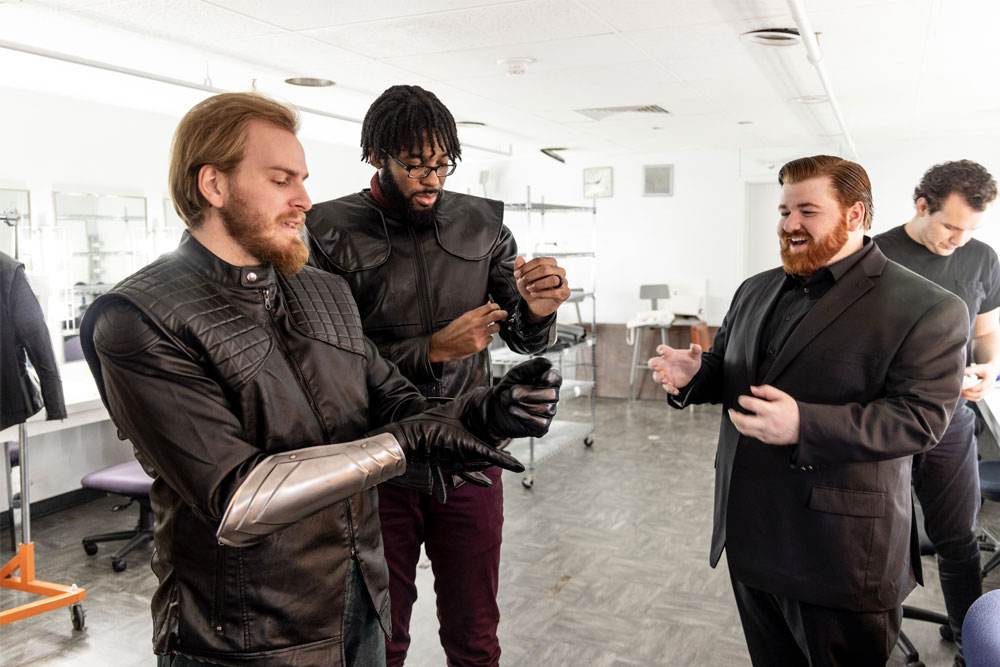 A backstage shot from "The Rape of Lucretia" of Bowles with colleagues Seth Clark (middle) and David Womack (left).

Within a week span of that conversation, Bowles cancelled a flight bound for Colorado to tour a graduate school and instead went to Dallas, spending a day with Forbis.
"I had a lesson with him, and he sort of convinced me that Southern Methodist was the place to be," he said. "And so I went there, and we worked maybe the first semester as a baritone, but it was pretty apparent that I was destined to be a tenor."
Bowles first production as a tenor was Robert Ward's "The Crucible" at the Southern Methodist University Meadows Lyric Theatre. And it is as a tenor that he returns to Minot State, playing leading man Don Josè in "Carmen."
 "I've been on this stage since I was a kid, and it's really fun to get back here and to, of course, work very closely with my parents but also with other familiar faces, with community members and friends that I've missed," he said. "And to work with some returning professionals who I got to work with when I was a student. It's very much a homecoming."
Georges Bizet's "Carmen" will be at Ann Nicole Nelson Hall in Minot State University's Old Main this Friday, Sept. 8 and Saturday, Sept. 9 beginning at 7 p.m. Tickets are available HERE or by visiting wpoera.org. Tickets prices for adults are $25, $30, or $35, depending on seat location, with children aged 17 and under only $10. Minot State students can attend for free with their student ID.
About Minot State University
Minot State University is a public university dedicated to excellence in education, scholarship, and community engagement achieved through rigorous academic experiences, active learning environments, commitment to public service, and a vibrant campus life.
---