Looyenga Leadership Center welcomes Fila back to campus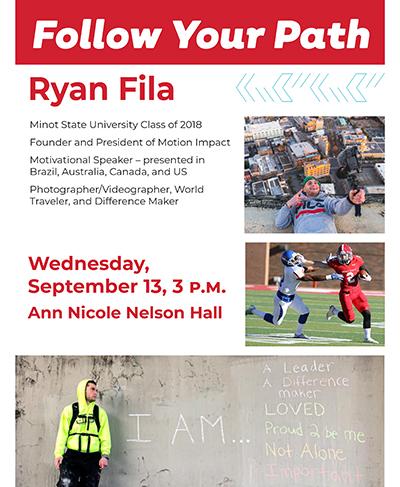 MINOT, N.D. – The Minot State Looyenga Leadership Center is welcoming back alumnus Ryan Fila for a special speaking event, "Find Your Path," at Ann Nicole Nelson Hall Wednesday, Sept. 13 at 3 p.m.
Fila is the first speaker in Looyenga Leadership Center's Auto-Owners Insurance Leadership Speaker Series. MSU benefactor Roger Looyenga enjoyed a nearly 40-year career with the insurance company, becoming CEO in 2004 and Chairman of the Board in 2006. Roger and Ann Looyenga gifted $1 million in 2019 to develop the Center to ensure MSU students have education opportunities in an area the Looyengas are passionate about.
The Auto-Owners Insurance Leadership Speaker Series will feature three speakers each year for the next five years.
The event will feature a presentation by Fila, founder and president of Motion Impact, and is free and open to the public. Fila will also speak to MSU students during various leadership classes during the week.
"Ryan is a great example of someone who has left his comfort zone to create great opportunities for himself and positively impact others. He has such a positive message, and it is great coming from someone who was a student here not very long ago," said Jim Sturm, Looyenga Leadership Center director. "Ryan shows us what we are capable of when we push ourselves, take chances, and genuinely connect with others.
"We are excited to have him on campus to share his message with our students and the broader Minot community."
Fila graduated from Minot State in 2018 with a degree in finance. He gave his first presentation entitled "College: My Story, Your Story," highlighting his experience as a student-athlete attending three different colleges and challenges he faced along the way, delving into Fila's loss of his father to suicide in 2016.
He formed Motion Impact — a nonprofit motivational speaking organization with the mission of creating a better world of tomorrow by inspiring the individual today. Through Motion Impact, Fila has presented throughout the world including Brazil, Australia, Canada, and the United States.
Along with motivational speaking, Fila is a photographer and videographer.
About Minot State University
Minot State University is a public university dedicated to excellence in education, scholarship, and community engagement achieved through rigorous academic experiences, active learning environments, commitment to public service, and a vibrant campus life.
---