Vega impacts lives through mentorship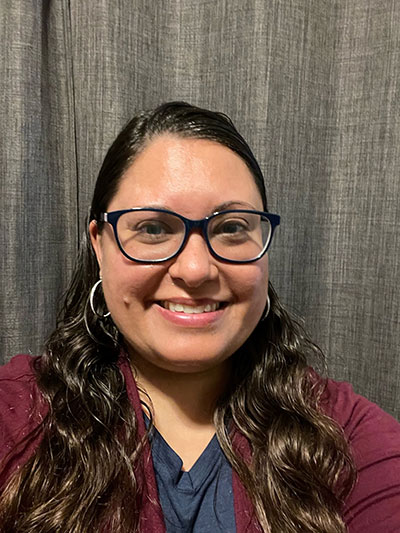 MINOT, N.D. – When Lisa Vega took her daughters to Papa's Pumpkin Patch in Bismarck, she wasn't thinking about work. Yet, her natural interactions with daughters Veronica and Felicia led to a mentorship opportunity.
"When I went to the pumpkin patch with my daughters, who are CODA — Child of Deaf Adults — some families had deaf and hard-of-hearing children who also came to the pumpkin patch," she said. "A mother with two hard-of-hearing children was amazed to see my daughters were signing fluently in ASL (American Sign Language). A mother asked me about a Deaf mentor she could contact, and I was happy to be her Deaf mentor."
The Minot State adjunct faculty member has been mentoring the mother weekly since February 2022 and has enjoyed watching her improvement in language acquisition, including using ASL for storytelling. As the mother began to refer other parents to Vega, her opportunities to mentor other families expanded.
"It is helpful for families to see a Deaf adult, to see how I learn through my life with languages in ASL and English to accomplish in education and community settings because they deliberately want to develop their relationships in communication that is vital for the whole child to have that opportunity to have socio-emotional development, to know how to manage emotions, and how to express wants and needs to reduce behavior complications in later life," she said. "I remember I had frustrations before I learned how to sign, so I understand how that would impact others, too."
Growing up in Devils Lake, Vega began attending North Dakota School for the Deaf at 3 years old and became a teacher assistant for Devils Lake High School and Lake Region State College students while in high school.
Following graduation, she landed in New York, then North Carolina to help her sister support her niece and nephew while her brother-in-law served three tours in the Middle East. From there, she moved to Colorado to be closer to her maternal relatives. After pursuing various jobs in Kohl's stores in the two states, she realized she missed teaching so began working as a substitute teacher assistant at Colorado School for the Deaf and Blind in Colorado Springs for six months.
"Then I had to wait another six months to work again because I did not have enough college credits to become a permanent teacher assistant," she said. "When I was observing a teacher teaching a Deaf child, I wanted to be like that teacher to be able to make a difference. I decided to go back to college to complete all of the credits, which led me through my journey to today."
Vega pursued her higher education at the University of Minnesota-Duluth and the University of Minnesota-Twin Cities to study education and Deaf education programs while her husband, Alberto, supported her, Veronica, and Felicia.
"Vocational Rehabilitation from Bismarck referred me to go to Duluth, Minnesota," she said. "They have interpreters and services for my accessibility and accommodations. I moved to Minneapolis to complete Deaf education programs after completed all the liberal education requirements."
After graduating with her master's degree in education, she moved back to Mandan to be with her parents. It was then she got back in touch with Holly Pedersen, Minot State special education associate professor and chair, and began working as a Deaf mentor for MSU students in September 2020.
"She knew me when I was a little girl, when I attended North Dakota School for the Deaf!" Vega said. "I am grateful for her opportunities to promote my career that fits with my skills, interests, talents, strengths, qualifications, and credentials."
In 2022, Vega added adjunct faculty to her duties at the University.
"Holly asked me to try it and I've been honored to work for the ASL lab via Zoom. It successfully increases students' motivation to learn ASL with a Deaf person" she said. "It integrates Deaf culture and teaches how to communicate with a Deaf person that is different from a hearing person."
Similar to speaking languages, ASL has its own phonology, morphology, semantics, and syntax. Minot State students explore those different rules in class with Vega, practicing signing and fingerspelling while learning how to integrate facial expression to further develop their ASL skills.
Vega's life experiences have also taught her how differences exist within ASL, too.
"In February, it was Black History Month. I remembered one of my research papers, 'Race and Deafness: Invisible History of Deaf People of Color,' when I was shocked that Deaf African Americans had the same segregation experiences as other African Americans," she explained. "I thought that all Deaf and hard-of-hearing children would be together in school in America.
"Historically, it impacted ASL to look differently; that was called Black ASL because of pragmatics that moved from their culture and learning in different places."
Living in New York enabled Vega to experience different ASL articulation firsthand.
"I grew up in North Dakota and learned sign language and how people used it around here," she said. "I moved to New York and noticed different pragmatics and how other people used their sign language differently from my sign language from the Midwest. Sign languages have different accents, too! I met Alberto in New York, he is also Deaf."
As a lifelong learner, Vega continues to find ways to add depth to her wisdom, especially in the classroom.
"I have learned from my students that I could teach, and that increased my confidence and self-esteem and gave me the motivation to do it," she said. "My favorite part is when I notice a student is struggling; I want to help as much as possible to make a difference.
"I am gladly working at a college to promote job opportunities that fit with my career goals in teaching and impacting differently in diverse experiences."
About Minot State University
Minot State University is a public university dedicated to excellence in education, scholarship, and community engagement achieved through rigorous academic experiences, active learning environments, commitment to public service, and a vibrant campus life.
---