SENIOR SPOTLIGHT: Upton learns to love the science at MSU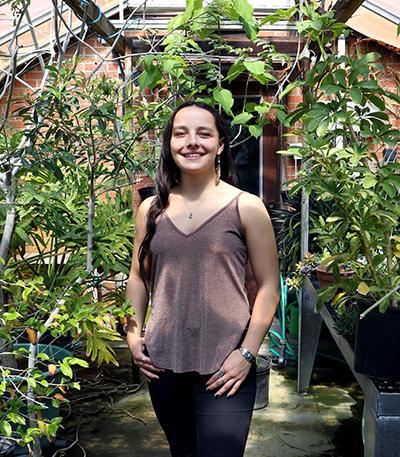 MINOT, N.D. – The next phase in Sarah Upton's career is exactly what she wants to do.
Upton, from Thousand Oaks, California, graduated with a degree in biology and a minor in chemistry, and had a focus in wildlife management. While she believes she will eventually go to grad school, her next step will take her to Eastern Nevada for a job doing ecological monitoring.
"It's exactly what I want to do," Upton said. "I got super lucky getting it and I'm very excited. It's a temporary position, so basically just the summer, but that's almost more fun because it allows me to explore different avenues in the field."
She began her academic career at Minot State University interested in forensics but was not interested in taking courses in law. A love for the outdoors steered her into the degree combination at MSU.
"I've always loved the outdoors, just in general everything to do with plants and animals and all that," she said. "But I learned to love the science of it here."
Upton's journey to Minot State started with a chance encounter with then head women's soccer coach Chris Clements at her last club showcase tournament. At the time, she was determined to stay in California for college, but hadn't found the right combination.

"It wasn't an option to go to a California school without a scholarship and the ones that had offered me a scholarship didn't have my career path or I just wasn't interested," Upton said. "At that point, I figured I would quit soccer and just go to a community college.
"At my very last tournament, Chris what there and recruited me. But I didn't think there would be any way to go to an out-of-state school that was affordable. I've never heard of such a thing."
Clements promised Upton Minot State was exactly that — an affordable out-of-state school — and after looking into it and seeing MSU had the degree she was interested in, she decided to continue her soccer career in college.
"I decided I'm moving to North Dakota," she said. "I didn't really know much about Minot, but it turned out to be the best choice ever."
Upton played four years for the Beavers, earning 61 starts in 63 games, scoring five goals, and adding an assist. She credits her time as the Beavers captain for helping her continue her career.

"The winters here threw me for a loop, the first one for me was brutal," she said. "I'm used to playing in 100-degree weather, the other extreme. But the coaches were amazing and I'm an optimist overall, I thought it was pretty cool to get to play and live in another state. I'm getting to do something most other people don't get to.
"My time as a soccer captain also really made me want to stay because I was able to see the affect I had on others, how much that pushed me as a player. I loved playing here, loved the team and the coaches, especially Chris, he was very supportive."
Her love for the sport also offset the struggles many student-athletes face trying to find balance between school, sport, work, and social life.
"I wouldn't say there is balance, but constant chaos for four years," she said. "After being done in the fall, not having soccer this semester, I realize now this is balance. I wouldn't trade it for anything, it showed me what I'm capable of — getting up at five in the morning for practice and not going home until 6:30 at night with a shift at the MSU Bookstore in between and then having to study that night, you really learn how to get things done efficiently and you learn to communicate.
"I'm super lucky to have the people around me that I did. The professors were really willing to help, but I had built that relationship and had that communication with them. The work ethic you get from being a student-athlete has already translated into my personal life."
About Minot State University
Minot State University is a public university dedicated to excellence in education, scholarship, and community engagement achieved through rigorous academic experiences, active learning environments, commitment to public service, and a vibrant campus life.
---