SENIOR SPOTLIGHT: Technology the key to Schmaltz's future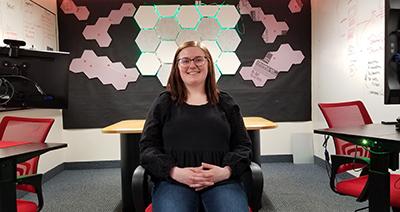 MINOT, N.D. – After a year at another institution, Amber Schmaltz found herself pondering her future.
She knew she wanted to transfer to a smaller school and the world of IT intrigued her, but she had reservations.
"I took a computer science course and knew I wanted to do something in IT, but I just couldn't see myself spending a career coding," the Rugby native said. "Minot State did a great job explaining all of the things I could do with a MIS (management information systems) degree and the more I looked into it and the careers you could do with it, the more I felt it was right for me.
"When I looked at the classes here and what was offered, I just really liked the business approach to Minot State's MIS degree and the hands-on experience I would get."
Schmaltz hasn't slowed down one bit since transferring. A major contributor to her success as a student and beyond stems from her experience with SWIFT (Students With Interest in Future Technology) Club and its advisor, Chad Fenner.
"I can remember an early class with Dr. Fenner, and he was talking about the club, getting it going and how it would work on our skills, and another student in the class, Joy Springer '22, who was about a year and a half ahead of me in the program, looked at me and said this is going to be an awesome opportunity," Schmaltz said. "This was an area where we were lacking, and we both joined right away. It was so nice to have someone in the club pushing you and working with you."
The duo started in the club during very humble beginnings, but Fenner's foresight helped the fledgling group believe in a brighter future.

"When we started, the cyber center was just a room with a table and a couple chairs," she said. "But Dr. Fenner was so excited. He kept telling us, here is what we can do, here is the plan, here is what can be done. He is so forward-thinking and theoretical, and he would tell me all the time what could happen, and he was always right. He just has an insight to the world that is cool."
The club also started to branch out to other disciplines and majors across campus, started to put on events, and entered cyber competitions. It was in one of the first competitions, Hivestorm, where Schmaltz realized her calling.
"We entered the first one, Hivestorm, and I didn't know anything," she said. "I don't even know what it was, but we tried it and were sucked in. We were so intrigued by the club and started doing more and more, speaking in front of more people, hosting events, and working with tours and events like Red & Green Day.
"I just really have a passion for that part of it."
Her new-found passion for speaking about the program, the work the students were doing, and Fenner's vision for the department collided as MSU announced the MIS program was designated by the National Security Agency and the Department of Homeland Security as a Center for Excellence in Cyber Defense in April of 2022. Schmaltz was picked as one of the students to address an overflow crowd on the third floor of Old Main.
"The designation event was amazing," she said. "We showed up not really knowing what to think and the floor was packed. It is probably the most challenging speaking event I've had. But it was a great experience, we got to meet the Chancellor (North Dakota University System Chancellor Mark Hagerott), and it has opened so many doors. We have quite a few more students this year because of it and we have been working with local businesses to get more systems to work on. It has really enhanced the room."
The University's burgeoning cyber program both in MIS and the math and computer science programs — and Schmaltz's tenacity — have helped her secure two different internships, including one starting in June.
"I wanted to get an internship during my undergrad work and wasn't having much luck," she said. "My mom's husband said one day that he gets his internet through SRT, maybe you should just contact them. So, I did. I emailed their info account, and they got back to me. SRT really catered the internship around my needs because they are a company that values internships. I did that for two summers."

That same tenacity helped her land a spot with Digi-Key this summer.
"They recruited at Minot State because we have done so well in their competitions — the team won it this last year which was amazing," Schmaltz said. "I got the interview and during it, they asked what my ideal job was, and I explained that it was basically what I'm doing with SWIFT, doing oversight and solving problems. They said you are basically describing a Scrum Master — they manage projects — and asked me if I was interested in that, and yeah, absolutely, so I got a couple interviews and ultimately got the job."
While she is excited for the opportunity this summer, Schmaltz isn't quite ready to leave the nest. She will return to MSU to complete her master's degree in information systems. While her future is technologically driven, she hasn't forgotten the human roots.
"I really want to inspire others like my professors have inspired me," she said. "After grad school, I hope to get some real-world experience and then go teach."
About Minot State University
Minot State University is a public university dedicated to excellence in education, scholarship, and community engagement achieved through rigorous academic experiences, active learning environments, commitment to public service, and a vibrant campus life.
---