SENIOR SPOTLIGHT: Scott makes the most of his college experience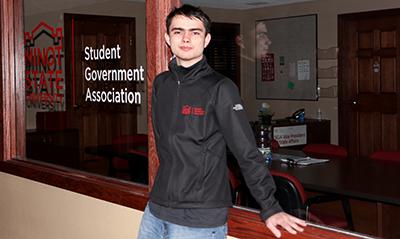 MINOT, N.D. – A strong sense of community, betterment of students, and opportunity to connect with other North Dakota institutions were some of the driving forces that inspired Chris Scott to get involved in the North Dakota Student Association (NDSA), ultimately making him the president.
Originally from Ruthville, a small town just south of the Minot Air Force Base, Scott had two main things in mind when looking for higher education institutions: affordability and proximity.
"It's my hometown university, and so it's close to friends I know in the area, and I didn't have to move anywhere to attend Minot State," said Scott.
He is one of the three Minot State University students that have been NDSA presidents in the last 20 years. Officially starting off in the Minot State Student Government Association (SGA), he got to know more about the student government at the state level and that piqued his interest.
"I had attended one of the events that SGA put on that year, and they had asked me if I wanted to attend NDSA. I was intrigued by the NDSA, having known what it was a little bit beforehand, and so I agreed, and went to the November 2019 NDSA meeting, which was hosted in Mayville," he said. "As with every new delegate, I had no idea what was going on, but I did like the sense of community, the NDSA felt very welcoming. Since then, I haven't missed a single NDSA meeting and so far, it's been 26 meetings."

The road to presidency was long and precise so Scott had to be strategic with his affairs, especially coming from a smaller institution.
"Over the Christmas break of that year, I was approached by the NDSA president about the position," he said. "As the role demanded a lot, I was initially hesitant. I was already the Minot State Residence Hall Association president at that time, but after giving it some thought, I had decided to accept the position, and was appointed as the NDSA chief admin January 2021."
Scott was later reappointed to that position for the 2021-2022 academic year and at the end of the academic year, all the officers were either graduating or seeking positions in their university's student government.
"This presented an opportunity for me to take a shot at the NDSA presidency, and so I decided to take a risk, and ran against a nominee from UND (University of North Dakota), and ultimately won the election," said Scott. "Since then, going into this year, the NDSA presidency has been a blast, and I have had the opportunity to visit all the 11 North Dakota University System (NDUS) institutions."
Amongst the numerous things that Scott has been able to accomplish, he is most proud of being able to represent Minot State in the state legislature, the NDUS as the NDSA president, as well as being able to foster the next generation of student leaders, both within Minot State's student government and the NDSA.
Scott will be graduating this spring with a major in chemistry and a minor in mathematics, with plans to further his education in the sciences.
"I am planning to attend the University of North Dakota majoring in an accelerated Bachelor of Science/Master of Science physics program. The goal by the end of my college career overall is to become an astrophysicist, an astronaut, or a space policy lobbyist," he said.

Though his plans are not set in stone, he knows for sure that a doctorate and more NDSA meetings are in his future.
Scott's journey at Minot State has been very memorable and he has grown tremendously during his time here.
"It has been a lot of fun, but unexpected as well when I think about how involved I got within Minot State and the state," said Scott. "If you had told me five years ago that I would be where I am at today, I would think you were crazy,"
He encourages current and incoming students to not fear the risk and go after what they want.
"If you don't try, you won't know what the result will be, so don't sell yourself short by not taking a shot at running for a position or applying for your dream job," said Scott. "You set your own limits, and if you push those limits, then anything is possible!"
About Minot State University
Minot State University is a public university dedicated to excellence in education, scholarship, and community engagement achieved through rigorous academic experiences, active learning environments, commitment to public service, and a vibrant campus life.
---