SENIOR SPOTLIGHT: Okunbor sets up a community at MSU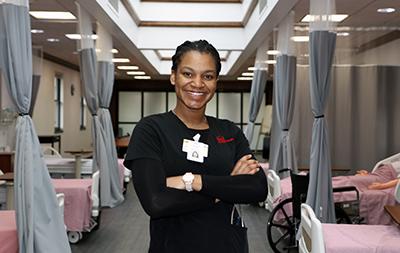 MINOT, N.D. – Four years ago, Praise Okunbor received sage advice.
While being picked up from the airport by Sal Rodriguez, former enrollment services admissions counselor and current assistant director of athletics for revenue and fan development, he gave her a piece of advice that fueled her passion to engage in as much as possible on campus: be involved.
Okunbor took this advice to heart and ran with it. Whilst being a full-time nursing student, she also held roles in different on-campus organizations.
"I've done a few things on campus. I think primarily it was because I wanted to get out of my shell and make friends and meet people," Okunbor said. "As time went on, it just grew into wanting to set up a great community and making a good difference."
She was the vice president of finance for the Minot State Student Government Association, orientation and welcome weekend leader, a peer mentor, a residence hall assistant, and now currently a resident hall director.
Okunbor, from Edo State, Nigeria, will graduate with her Bachelor of Science in Nursing. She has developed a deep love for nursing during her journey in the Minot State nursing program.

"I love nursing because it gives me the opportunity to use everything I know to understand and support people's families during the toughest or happiest times of their lives," said Okunbor.
Right after school, Okunbor is set on getting a job at a hospital to work as a registered nurse. To aid that goal, she will be spending the summer working towards her National Council Licensure Examination (NCLEX) for registered nurses (RN).
"Professionally, I want to actively participate in nursing organizations. I'm really excited to be with like-minded people and work to move the profession forward," she said.
Okunbor credits her parents as her biggest inspirations because of all they have accomplished. Their success pushes her to set high standards for her personal aspirations.
"A lesson I've learned during my time here would be to take the leap," said Okunbor. "I think there's so much that I've been able to achieve and none of them would have been possible if I didn't try by taking a step forward to putting myself out there."
Reflecting on how she has grown during her academic career at Minot State, she's glad that she has become better at working with people and with teams.
"First of all, I learned enough to get a degree, but besides that, I made great friends that helped me navigate and enjoy this cultural experience as well," she said. "Also, my ability to plan and stay organized grew tremendously, so did my confidence."

Okunbor is excited about graduating and very grateful to God for how far she's come personally and academically.
"I feel anxious and ecstatic," she said. "It is sincerely surreal, and I've asked to be pinched a few times to make sure it's happening for real."
She feels very prepared to face the professional world because of the variety of people and interests Minot State has exposed her to.
"Working with others outside the classroom has taught me great things on networking and commitment. I am also less anxious to break the ice," Okunbor said. "This is awesome especially when having conversations with patients and families at the hospital."
Okunbor encourages current and incoming students that would love to be involved on campus as well as excel academically to master time management, delegation, and determination.
"It definitely wasn't a perfect journey but everything I did, I genuinely wanted to do," she said. "It was possible because I wanted to do it, I believed I could do it, and I was determined to do it. That was how I got through it all. Hindsight is 20/20 and I am glad I was involved."
About Minot State University
Minot State University is a public university dedicated to excellence in education, scholarship, and community engagement achieved through rigorous academic experiences, active learning environments, commitment to public service, and a vibrant campus life.
---