SENIOR SPOTLIGHT: Klebe and Voth, the dynamic music duo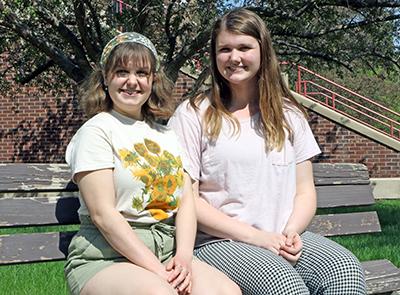 MINOT, N.D. – Megan Klebe and Rachel (Dockter) Voth found out they were the new music educators at Surrey Public School at the same time.
"When I was driving back from my interview, I immediately called Rachel and was like, so, how did your interview go, how long did it take?" said Klebe. "Not even five minutes later, another phone call comes up and I tell her I need to take this call, and she's like, somebody's calling me, too."
"We switched calls, and we were both offered the positions we applied for," added Voth.
"It was really fun to find out like that. The two principals separated so they could go call us.
"It will be so helpful to have a friend just starting out, too."

While their paths began crossing as performers for the Western Plains Children's Choir during childhood, they finally became friends in high school.
"We knew each other since about fourth grade, at least knew the other existed," Klebe laughed. "But we definitely became friends our sophomore year of high school."
As their high school graduation approached in 2018, Minot State University seemed like the right fit for the Minot High School graduates.
"My grandparents graduated from Minot State," said Voth. "Arnola (Lohse) Leverson '68 with music ed and my grandpa, David Leverson '69, was a gym teacher. And being from Minot, I was able to get to know the faculty throughout high school during audition processes and seeing them at different music festivals.
"Dr. Erik Anderson (low strings and theory professor) knew I was thinking about Minot State and invited me to come play in their chamber ensembles class on Tuesdays. It was from these opportunities that I got to know some of the different music faculty."

"When we were in senior year, Dr. Rebecca Petrik (retired assistant professor in music education) was the conductor for the Western Plains Children's Choir," added Klebe. "We loved this woman to death, and then we also knew Dr. David Rolandson (associate professor of music) because of Northwest Music Festival. And I knew Dr. Deanna Carpenter, she's the horns and high brass.
"I knew a lot of professors, I liked these people, I liked the town. I grew up here, I wanted to stay here."
While Klebe and Voth were both set on Minot State and their career paths — music education — what changed for both was their area of specialization.
"When I came to Minot State, I was focused on both the violin and saxophone," said Voth. "But by the end of my first semester, I decided that I wanted to stick with saxophone."
As she continued to play for the Minot Symphony Orchestra, she added contrabassoonist to her resume, playing the instrument in a Spring 2023 concert. The year prior, she won the 2022 Senior Honors Competition and performed the first movement of Henri Tomasi's "Concerto for Alto Saxophone and Orchestra" solo.
"It was a sold-out concert because it was John Williams's music," she said. "I'd never played for so many people in my life and it was so much fun."

While Voth chose between two passions at the beginning of her higher education, Klebe encountered an unexpected change of heart.
"In high school, I didn't like my voice, I didn't think I had anything special," said Klebe. "Then sophomore year, Dr. Emerson Eads (director of choral activities and assistant professor of music) had an opportunity for me to sing a duet with another friend of mine, Katie Sundbakken, and Dr. DeVera Bowles (Minot State retired professor of voice) helped me find that my voice might not be like everybody else's but it's just as special."
She finished her college career on the 2023 Commencement stage singing both the United States and Canadian national anthems, but before then, she fell in love with the opera.
"My freshman year I helped out with 'The Marriage of Figaro,' and then was stage manager when they did 'Into the Woods,'" she said. "Then I was a dew fairy in 'Hansel and Gretel' and Amahl in 'Amahl and the Night Visitors.' Most recently, I was Adele in 'Die Fledermaus.'"
And while performing in front of crowds is something both Voth and Klebe were able to experience at Minot State, standing in front of a classroom is a long-desired career path for both.
"I've always wanted to teach," said Klebe. "I just didn't know what until high school, and I met our band teacher, Mr. Patrick Schwan '87/'95, who really inspired me in music education. With music, you get the same teacher through four years, and you really get to build a special relationship with them."
"And watching my grandma teach piano, I just knew I wanted to teach since I was like 12," said Voth. "It was her influence, and our band director, and our orchestra directors. It seemed like something special, to pass on my love of music to students."

About Minot State University
Minot State University is a public university dedicated to excellence in education, scholarship, and community engagement achieved through rigorous academic experiences, active learning environments, commitment to public service, and a vibrant campus life.
---