SENIOR SPOTLIGHT: Gunderson finds her niche in FBLA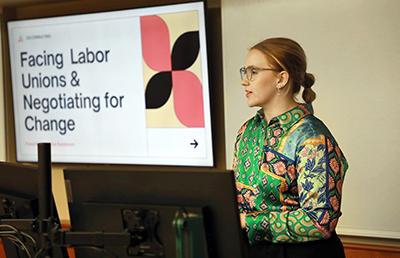 MINOT, N.D. – Coming from a long line of Minot State University alumni, Chloe Gunderson knew that MSU would help her accomplish her goals.
"My older sister, Caitlin Gunderson, went to Minot; my mom, Sue (Rott) Gunderson-Kranz '93, went to Minot; and my grandma, Lois (Fiesel) Rott '58, went to Minot; so, it was just kind of a family thing," Gunderson said. "The cost of tuition is amazing, and I knew they had a good college of business which I knew I wanted to go into."
After graduating from Des Lacs Burlington High School, Gunderson knew she wanted to go into business. 
"The stars just kind of aligned, and it worked out," she said.
While attending Minot State, Gunderson has been a part of many things. For three years she competed on the track & field team while being a full-time student and a member of Future Business Leaders of America (FBLA).
"FBLA is the largest student-led business organization in the United States," the business major said. "It's an opportunity for students to travel and network, as well as compete."
After recently going to Bismarck for an FBLA competition, Gunderson and her peers competed against other students in many different areas of focus.
"I competed in future business executive, that is probably the hardest competition there; it's super competitive. I also competed in management analysis and case study, and retail management. And I placed first in all of them," Gunderson said.
With advisor Jan Repnow, College of Business assistant professor, by her side for the last few years, she was able to find her niche.
"Chloe is a talented student with a bright future," Repnow said. "I look forward to watching her dreams become reality."

To add to the list of accomplishments, Gunderson plans to take her track & field throwing talents as well as her business talents to Dickinson while she finishes master's degrees in business administration and entrepreneurship.
"Right now, I do some work in marketing. I do freelance work for small businesses in town and I absolutely love it," Gunderson said. "I think it takes some skill to be able to take a product and deliver it right to the person you want to buy it."
In such a broad major and a lot of experience in many different areas of study, Gunderson wants to keep her options open and continue work in the marketing world.
"Looking back, I'd still choose MSU. I made it a priority to make connections, so my freshman year intro to business professor, Maleeha Latif (current Minot State director of international programs), she was the adjunct professor at the time, and I still talk in her office, so it's really nice and important to me," Gunderson said.
After her last semester of her undergraduate degree in the fall, Gunderson will finish out two master's programs in two years while attending Dickinson State University. After that, she plans on staying in the marketing world and seeing where work takes her.
"I would love to go and experience new things," said Gunderson. "I think life is too short to spend all of it in North Dakota. I definitely think I'll move back in the future, but right now it just about finding new experiences."
About Minot State University
Minot State University is a public university dedicated to excellence in education, scholarship, and community engagement achieved through rigorous academic experiences, active learning environments, commitment to public service, and a vibrant campus life.
---