SENIOR SPOTLIGHT: Gonzalez inspired to help others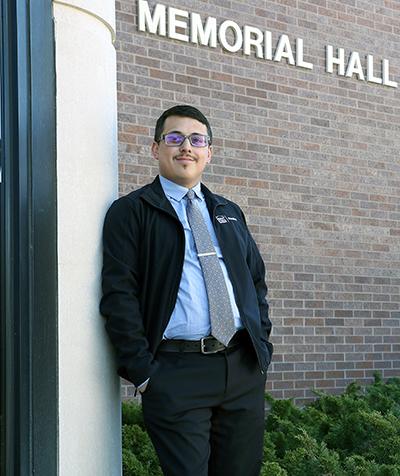 MINOT, N.D. – Luis Gonzalez was drawn to nursing because he believes in helping others.
His first exposure to it came in high school when he volunteered for the Carpio fire department at 16 years old, continued while he worked at a nursing home in Stanley, and now during his time in the Minot State Department of Nursing.
Gonzalez felt especially motivated during his time doing clinicals.
"The great thing about my profession, every day from clinicals to the work I will be doing once I've graduated, is to help people. That's very powerful," he said. "I was very intrigued by the clinical I did here at Trinity's Cardiac Cath (Catheterization) Lab, seeing people come together to save lives. I was really drawn to it."
While he witnessed life-saving procedures, he feels there is more to nursing than single events.
"Certainly, in this situation and in places like the ICU, there are times where nurses are saving lives, but I think there is a misconception in that," Gonzalez said. "For the most part, nurses are there long term to help people heal. Seeing the care provided in the cath lab really, how specialized it was, I knew I could focus on one system and become an expert."
There was a time when graduation seemed like a lifetime away. After two years in school, he decided to take a break. He worked full time in construction with his dad during the pandemic.

Both leaving and then eventually returning to school were difficult decisions, but in the end, Gonzalez believes it was a blessing.
"It was very difficult to go back to school," he said. "My older sister kind of did the same thing, took a break and then came back and she warned me it would be a tough decision. Once you start working and have a nice paycheck coming in, it makes it difficult.
"But I think the break helped me. When I came back I was a little more refreshed and it helped motivate me. Both decisions were tough, but I'm really glad I did."
Gonzalez started at MSU in 2016 with the mindset to eventually become a nurse. His experience with firefighters and EMTs in high school, along with family members who eventually became nurses, gave him good insight into the position.
"It was good exposure to get to work with the firefighters, some were certified, and some were just volunteers," he said. "We had a monthly meeting with the fire department and then another with the EMTs and would go over training and work to be a part of the community. That's a big thing for me and a big reason why I chose Minot State was because they wanted to help in their community."

Returning to Minot State and then eventually to the nursing program wasn't nearly as daunting as Gonzalez thought it might be. He returned to finish his general education requirements and applied to the program. Once in, he was able to concentrate on nursing.
"I had to retake a lot of assessments and the ATI modules, but I was able to work on that while I figured out my generals," he said. "I was worried about being the new kid again and how my classmates would be, but it was just the opposite. The whole department is full of wonderful people, and they were very accepting about having me back. The nursing department is very tight-knit, and they take care of each other."
He also credits the POWER Center and Lynda Bertsch, MSU's director for career services, for making his transition back to being a student and now someone who will start at a hospital in Fargo this summer seamless.
"The people in the POWER Center really helped me and Lynda was very supportive of me," he said. "The cath lab is a specialty and they don't always hire new grads, but I was hired because of how prepared I was. The support services I received at MSU made a big difference for me."
About Minot State University
Minot State University is a public university dedicated to excellence in education, scholarship, and community engagement achieved through rigorous academic experiences, active learning environments, commitment to public service, and a vibrant campus life.
---