SENIOR SPOTLIGHT: Fettig builds relationships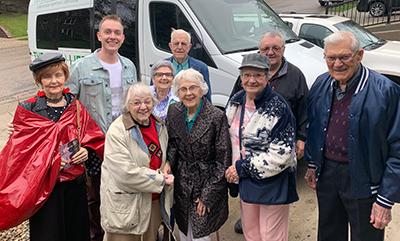 MINOT, N.D. – When Carson Fettig graduated from Bismarck's Legacy High School in 2019, a bus pulled up to his grad party.
"I've worked at Touchmark (Touchmark on West Century) on and off since I was 16," he said. "They have a few buses for traveling and whatever, and a bus came to my house for high school graduation so the residents could come. It was wonderful. I call them my extended grandparents because they are just so friendly and love me so much."
What started as a high school job bussing tables has unexpectedly turned into a career path for Fettig.
From dietary aid to receptionist to assisting the life enrichment coordinator, he will join the Touchmark full-time staff as moving in coordinator after receiving his Bachelor of Science with majors in management and marketing from Minot State.
"Christmas time came around and my executive director called and said we don't want to lose you," he said. "We have this position opening up and we'll hold it for you until you graduate. And I was like, you guys are amazing. Let's do it."
After graduating from Bismarck State College with his associate degree in business administration, Fettig transferred to Minot with an eye on the management side of retirement communities.
"I knew I didn't want to go into the medical side of things. Well, I should say I took a class in high school and loved it. But then looking further into schooling, I was like, I don't think that's going to be me," he laughed. "So I took some intro courses at BSC and I saw more of the business side when working at Touchmark and how much that really matters. I also got to shadow the executive director."
At the core of Fettig's calling is relationship building, a natural talent he put to good use during his two years at Minot State University.
"It was mostly word of mouth that I got involved in RHA (Residence Hall Association) because I wanted to be a part of something. I represented my hall, Cook Hall, and had a great time. We threw a few pizza parties and food things, we had our yearly Easter egg hunt, that was huge," the MSU Life director said. "I also joined MSU Life as a member because it sounded amazing doing the events, being a part of it, making memories — it was just great.

"The whole vibe is just great; I just love the energy. And then I heard they do voting every year for a new director. I was like, you know what, why not? I'll give it a shot. I was honest in my interview and said how I felt about this amazing program and how it effects the University in such a positive way."
Why not? is a question Fettig thinks encapsulates his time at Minot State University.
"I love the saying, 'Why not Minot?' That's such a perfect phrase. It's an amazing community, I have been so happy to be here, and I've made nothing but great memories," he said. "The people are the best part without a doubt. The second I toured here for Beaver Bound Day back in spring of '21, I just knew this was for me.
"Minot State is homey. It's not overwhelming. Everyone always has a smile, and everyone is welcoming. Like there's no negative thing."
About Minot State University
Minot State University is a public university dedicated to excellence in education, scholarship, and community engagement achieved through rigorous academic experiences, active learning environments, commitment to public service, and a vibrant campus life.
---