SENIOR SPOTLIGHT: Elliott looks to travel the world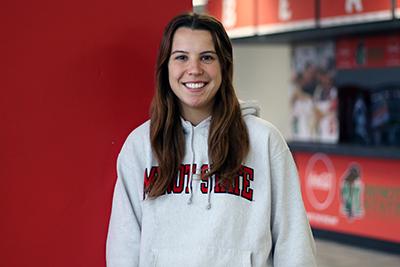 MINOT, N.D. – Graduating with her Bachelor of Science with a Major in Corporate Fitness and Wellness Management degree, Natasha Elliott wants to spend her time traveling the world and inspiring others to be their best selves through all forms of wellness.
"I transferred to Minot State to play basketball my sophomore year, and unfortunately COVID kind of stopped all of that, although I was able to play a few games. Coming back my junior year, I changed my major to corporate fitness and wellness management and began taking several in-person classes," Elliott said. "Since I only had two years to complete this major, I had to take 18 credits every semester up to my very last one, which was a bit challenging on top of basketball season keeping me busy, and my part time job at the Wellness Center.
"However, I would not change it for the world as I have learned so much and I am so excited to use my knowledge in the future."
Although Elliott's future plans lie outside of the basketball world, being an athlete was a huge part of her college career.
"At the end of my junior year I received a spot on the NSIC All-Academic Team of Excellence and was awarded the Fall 2021 Vice President Academic Affairs Honor Roll and the Spring 2022 President's List," she said. "This basketball season was a big one for me since I earned a starting position on the team, and I even hit two game winning shots, not to toot my own horn. To finish the year, I was awarded the NSIC Myles Brand All-Academic award, College Sports Communicators Women's Basketball Academic All-District award, NSIC All-Academic Team of Excellence award, and gained a position on the Fall 2022 Academic Honors Roll.
Though ending her career with exceptional athletic and academic accolades, the hard work it required did not come without hardship.

"On the downside of taking on a big class load as well as being an athlete, I have struggled greatly with my mental health, and often felt like I had no time for myself. I am very grateful for the resources at Minot State that have allowed me to receive help from professionals," said Elliott. "I would not have been able to get through this past year without the support system I am fortunate to have around me here at Minot State."
After all her hard work the past three years at Minot State, Elliott plans to spend her summer traveling the world with her girlfriend and friends.
"I will be staying with my girlfriend in Northern Italy for three months, exploring the beauty in her town, and the beauty and history of other regions in Italy. She lives in a town called Arco, which is surrounded by the Alps so we will be doing lots and lots of hiking. She also lives right by Lake Garda, which is the largest lake in Italy," she said. "I am most looking forward to getting my tan back on and swimming in the lake every day! We will also be visiting our friend who lives in West Sussex, England. We will be traveling around London and doing all the touristy things.
"I am so excited to travel to new areas and experience many new cultures. After three months in Italy and England, I will finally head home to Australia for the first time in three years. I simply can't wait."
Elliott's talent as a student-athlete and accomplishments in her education as a corporate fitness and wellness management graduate have guided her and showed her how to combine her love for travel and her passion for not only her own mental and physical wellness but the wellness of others.
"I am a bit of a free spirit and I want to live that out for as long as I can. My goal is to travel as much as I can while I am young, before settling down. I have a very strong desire to explore all the good and even the bad that our planet has to offer. While I am home in Australia for the next year, I am planning to work as much as I can to save up so I can go backpacking the following summer," said Elliott. "While I am at home working, I am also going to begin building an online platform for myself so that I can use it to inspire others, while also creating income to continue doing what I love.
"I believe that past generations have taught us that we must settle down into a 9-5 job once we come out of college and until we retire. However, I am a strong believer that we do not need to follow this pattern anymore. I want to travel the world and inspire people to become the best versions of themselves in all aspects of wellness. I will be creating videos of my experiences and how I maintain a happy and healthy lifestyle and continuing to travel around the world and take on many challenging adventures."
About Minot State University
Minot State University is a public university dedicated to excellence in education, scholarship, and community engagement achieved through rigorous academic experiences, active learning environments, commitment to public service, and a vibrant campus life.
---