SENIOR SPOTLIGHT: Clementich accomplishing his dreams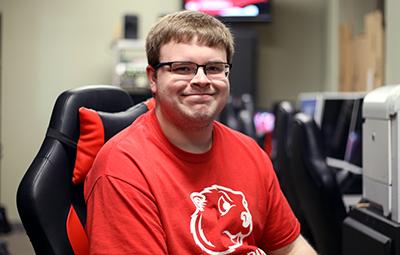 MINOT, N.D. – As a sports lover, Cole Clementich knew after seeing what the professional communications major had to offer, that Minot State University was the place for him.
"I knew I wanted to stay close to home and I knew the professional communication major had what I needed to go into my desired field," Clementich said.
The Minot local and Minot High grad also knew that MSU would be the place to accomplish his dreams.
He has done many things throughout his undergraduate career at Minot State including creating his own sports podcast, "Minot Sports Podcast;" helped create the KMSU "Inside the Dam" podcast; and has been a huge part of the "Inside Out" class.
"Classes like Comm 285 helped me in graphic design and Adobe, Comm 362 helped me generate package stories for live on-air viewing which led me to winning some awards," said Clementich. "The Red & Green class solidified my writing. So much was made, and I developed a real skill in a lot of areas into where I'm at today."
Clementich plans on taking his skills and passions to pursue his graduate degree in sports management here at MSU.
"As a grad assistant I will get the chance to work in an office space and work on daily content or projects for the athletic department," said Clementich. "I will be on the sports information side, which is where Howard Wade '22, another professional communications graduate, is at. I will be doing play-by-play, writing press releases, running camera, and providing guests for KMSU's 'Inside the Dam,' 'Saturday Showdown,' and Inside Out.'"
By staying in the sports field, he gets to expand on his already impressive resume and add to his portfolio.
"My projects opened my eyes to an even greater spectrum, that I can do more than just podcasting," said Clementich. "The field requires so much versatility nowadays, you always want to stand out from the others."
He points to recent Minot State graduates as examples of what can be accomplished in his field.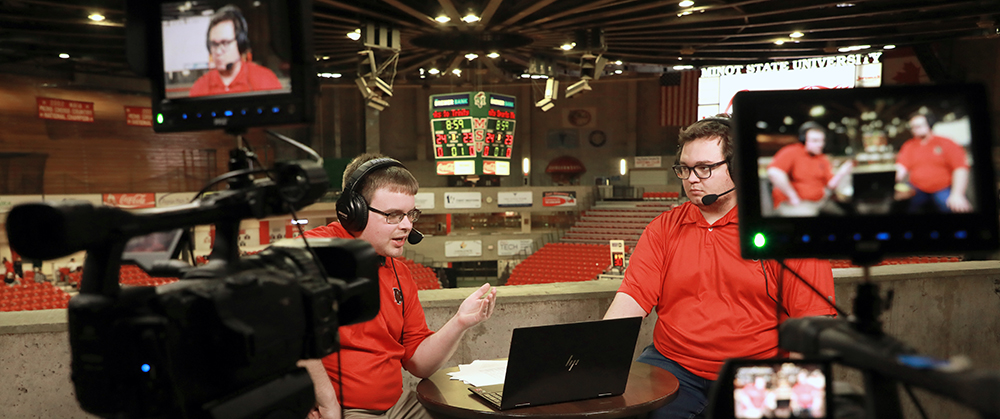 "A master's degree helps with that so much — see Greg Spencer '21, who is with the Phoenix Suns; Trey Morten; and Sal Rodriguez '19, Minot State assistant director of athletics for revenue and fan development," Clementich said. "If you want to do a lot of things at one small venue or one role at a bigger venue, a great opportunity is awaiting you at a lot of places in the sports world."
Post grad school, he has a lot of plans for his future. Clementich wants to continue to spend his time and skills in the sports world, where he plans to continue doing multiple projects.
"Following grad school, I know it's such a broad answer that I give everyone, I just want to be working somewhere in the sports world. If I wanted to be a team GM like Monica Blake with the Hot Tots, or a sports director like Zach Keenan at KMOT-TV, or hosting a sports talk show like Brett Kane at Altitude Sports, or even working with a sports team's social media/graphic design/content creation departments," said Clementich. "My dream job would be to work at KKSE with the Colorado Avalanche, Denver Nuggets, or with the Denver Broncos.
"I want to keep my options wide open, but also understanding that it takes time to grow into those roles, and I can thank Minot State for helping me gain the skills to get there some day."
About Minot State University
Minot State University is a public university dedicated to excellence in education, scholarship, and community engagement achieved through rigorous academic experiences, active learning environments, commitment to public service, and a vibrant campus life.
---