SENIOR SPOTLIGHT: A zeal to help and advocate pushes Anderson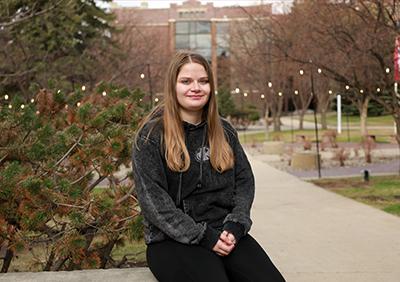 MINOT, N.D. – When Maggie Anderson was looking for a university, she searched for one that wouldn't put her in crippling debt.
"I chose Minot State for its affordability," the outgoing Student Government Association president said. "I didn't want to take out a lot of debt all of sudden, and Minot State was able to offer me lots of scholarships in addition to its lower cost of attendance.
"It also was one of the few schools in North Dakota that had my major, and I didn't want to leave the state just yet. When I started college, I was able to move into the dorms and live on campus for a deeper college experience but still had my parents close by in town."
Anderson's choice of major — communication sciences and disorders — was heavily impacted by her early childhood challenges with speech therapy and the bullying that came from that experience.
"The speech pathologist really helped me not only with my speech but also with shyness and helping me to become more social with my peers," said Anderson. "When it came time to choose my career path, I knew I wanted to do something that was rewarding and made someone's life a little easier. Speech pathology seemed like a natural fit. It was a very full circle moment for me when I realized that I could become the therapist that was on the other side of the table."
The zeal to help and advocate for people encouraged Anderson to join the Student Government Association which resulted in her being the elected president for the 2022-2023 academic year. The road to that achievement wasn't easy from the beginning.

"The first week of school, I applied to be the freshman senator, and was rejected. That was a little rough for me. Growing up, most of my siblings had been involved in some type of student government, and I wanted to be able to also do that," the Minot native said. "Instead of SGA, I applied to the residence hall association, and I received a spot as a hall representative. From there, I actually was able to join SGA, as two members from the residence hall association were supposed to attend the meetings.
"After spending a semester in that position, it was time for elections and someone recommended that I run for the VP of state affairs so I did. After that I ran for VP of internal affairs, and from there the next natural step seemed to be president."
Her decision to run for president was influenced by a need to see change in areas she felt were over-looked and help the members of the association and fellow students realize their ideas.
"There was a lot of talk on campus about what should happen, or what could happen, but no one was actually doing anything, it was all just talk. I wanted to be able to serve as the link between just talking about things and actually executing things," said Anderson.
In the midst of climbing the political ladder, she got affiliated with other activities and organizations around campus.
"I did a little bit of everything while at Minot State, but stuck with SGA for the most of it. With my major, I got to be involved with NSSLHA (National Student Speech Language and Hearing Association) and do different volunteer projects like reading to kids in the schools, or volunteering at a Teen Night Out and Limitless Fashion Show, a program for local people with disabilities," she said.
While Anderson is excited to graduate and go into the professional world, she reminisces about her time at MSU and the fun memories she's had all over campus.
"If you are looking to make connections at Minot State, I would recommend the Wellness Center for sure," she said. "The staff there is super friendly and helpful. I spent a lot of time at the rock wall early in my college time and made a lot of friendships with the staff and with other climbers.
"Giving tours is also a great way to meet people! You get to meet already enrolled students and find out why they like MSU and decided to come here, and get to share all the great aspects of our campus with potential students."
She's been a member of MSU Life since her freshman days and she recognizes what an impact that organization has made in her life.
"I really think that MSU Life has become the backbone of the Minot State community, and without it, we would be an entirely different college," she said. "Being able to plan events for students with an amazing team has been such a blast."
Anderson received inspiration from her brother and his heavy involvement in Minot State University during his time as a student here.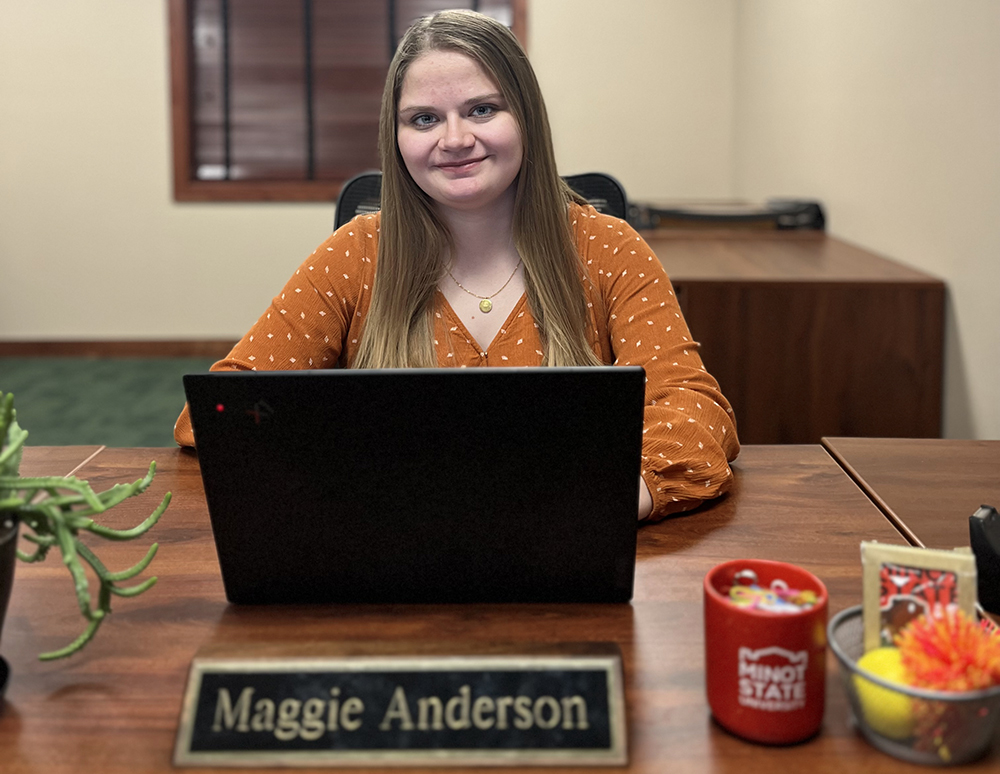 "I would definitely say that my brother Anthony '12 inspires me. He also went to MSU and when I was growing up during that time, I heard a lot about everything that he was doing on campus. He was also involved in SGA, but also Rotary Club, student ambassadors, and was selected as the commencement speaker. He's always a hard worker, always reading something, and knows the coolest, most random things," she said.
After graduation, Anderson intends to come back in the fall for graduate school but her first plan is to reward herself with a well-deserved vacation. She has intentions on being a speech pathologist for elementary school children.
"Eventually, I think it would be really cool to open my own private practice, be able to set my own hours, and of course, have a therapy dog to hang out with during the day," she said.
There are numerous lessons she has learned during her journey at Minot State but out of all of them, she has come to understand the importance of taking care of herself first.
"Not everyone is going to like you and sometimes they won't even have a real reason not to like you. That's okay. It's better to focus and lean on the cheerleaders you have for support than worry about difficult people. Find the people who celebrate your success and do the same for them. Those are the people who are going to be sticking around in the long haul," said Anderson.
She emphasized the importance of knowing when to say no and being selfish when it's required, even if people make you feel guilty about it.
"I also learned that it's not worth it to keep yourself in a bad situation just for the sake of seeing it through. You literally cannot 'pull yourself up by the bootstraps.' It's impossible, and you won't go anywhere if you actually tried that," she said. "If you are miserable in a job, club, friend group, etc., there will be better ones out there. The best thing I have done for myself is saying no, I'm not going to do this anymore.
"Standing up for yourself when you see in injustice is hard, but a lot more peace and happiness comes from walking away from those things."
About Minot State University
Minot State University is a public university dedicated to excellence in education, scholarship, and community engagement achieved through rigorous academic experiences, active learning environments, commitment to public service, and a vibrant campus life.
---