Cyber bootcamp for educators at Minot State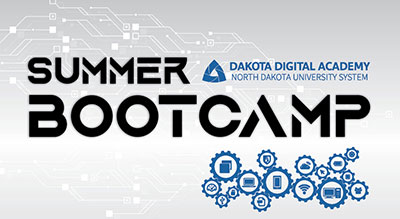 MINOT, N.D. – As students go on break, teachers will be hitting the classroom at Minot State University.
The Dakota Digital Academy (DDA), a unit of the North Dakota University System (NDUS), and the Northern Information Technology Consortium (NITC) are teaming up to deliver a two-day IT/cyber bootcamp at six locations across the state on June 6-7.
"We are excited for the opportunity to host a cyber bootcamp in the Minot area," said Daren Erisman, Minot State assistant professor of computer science. "Our programs in computer science and cybersecurity have been growing along with a new data science program starting this fall. Sharing the new technologies and some tools for teaching them will be fun."
The bootcamp aims to help K-12 teachers who have little digital technologies experience to be exposed to the fun and creative aspects of digital technologies. Attendees can return to their classroom with a technology toolbox to engage their students as well as earn graduate credit upon completion of the course.
"Digital technology literacy is only growing in importance as we see the advancement of artificial intelligence and cybersecurity in all that connects us through the internet and advancement of learning and engaging with our environment," said NDUS Chancellor Mark Hagerott. "Students need to be taught about digital technologies and this opportunity is a way to help teachers familiarize with important aspects of technology."
Governor Doug Burgum signed HB1398 during the 2023 Legislative Session, requiring the teaching of computer science and cybersecurity and the integration of these content standards into school coursework from kindergarten through 12th grade. North Dakota School Superintendent Kirsten Baesler said North Dakota is the first state in the nation to approve legislations requiring cybersecurity education.
"The timing for this bootcamp couldn't be more perfect," said Erisman. 
The two-day bootcamp is being offered at Minot State University, Dakota College at Bottineau, Lake Region State College, Turtle Mountain Community College, Valley City State University, and Williston State College.
Modules of learning will include four hours each of networking, cybersecurity awareness, Internet of Things, and programming. Each attendee will receive a $200 stipend to attend and one graduate credit through Minot State or Valley City.
"I am impressed with the Dakota Digital Academy's vision for not only making these critical technologies accessible to educators, but supporting it with attendee stipends," said Erisman. "Well done!"
For more information on the learning modules or to register for the bootcamp, visit the 2023 Summer Bootcamp – Dakota Digital Academy.
The DDA was established to help provide access to digital-cyber oriented education, training, certificates, and knowledge. It is a collaboration among NDUS campuses, in partnership with select business and corporate partners.
About Minot State University
Minot State University is a public university dedicated to excellence in education, scholarship, and community engagement achieved through rigorous academic experiences, active learning environments, commitment to public service, and a vibrant campus life.
---